Radish Recipes for the Backyard Vegetable Gardener

We are always on the lookout for new radish recipes, especially since we grow them both in the spring and fall.  Radishes are most often eaten raw or pickled, although they can be cooked. Their trademark crunch and spicy flavor can be implemented into a wide variety of salads or used as a garnish on just about any dish. Before we share some of our favorite ways to use radishes, here is some nutrient information...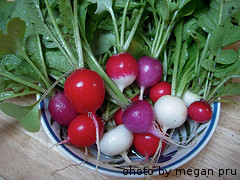 One half cup of raw radish slices contains:


9 calories
2 g carbs
9 mg vitamin C
14 mcg folate
14 mg calcium
135 mg potassium
23 mg sodium


Here are some of our favorite radish recipes:



Pickled Radish - this radish recipe make a great garnish or snack all by itself


2 cups sliced radishes
1 teaspoon salt
1 tablespoon rice wine vinegar
1 tablespoon apple cider vinegar
1/4 teaspoon black pepper
1/2 teaspoon white sugar
1 teaspoon soy sauce

Pile radish slices into a strainer and sprinkle salt on top. Toss to combine and let sit 30 minutes until 1-2 tablespoons of water is released.
While waiting on radishes to drain, add rice wine vinegar, apple cider vinegar, black pepper, white sugar and soy sauce to a mixing bowl. whisk to mix.
Rinse radishes several times to remove as much salt as possible. Place in mixing bowl and stir to coat. Cover and place in refrigerator for 2 days, stirring twice. Best served cold.



Radish and Garlic Saute - this radish recipe makes a unique side dish, the radishes lose much of their spice and become sweet and mild


2 tablespoons butter
1 pound radishes, sliced
2 cloves garlic, minced
1 teaspoon chopped parsley
Salt and pepper to taste

Melt butter in saute pan over medium heat. Add radishes and garlic and saute for 10 minutes over medium heat. Remove from heat and add parsley and toss to combine. Season with salt and pepper and serve immediately.



Creamy Potato and Radish Top Soup - this radish recipe makes a hearty and unique soup, a great way to use up lots of radish tops, good as a starter or a meal all by itself


2 tablespoons butter
1 large onion, diced
1 clove garlic, diced
3 medium potatoes, sliced
4 cups raw radish greens, washed
1 medium carrot, sliced
4 cups chicken broth
1/3 cup heavy cream
salt and pepper to taste

Melt the butter in a large saucepan over medium heat. Add the onion and saute until nearly tender. Add the garlic and saute another 3 minutes. Add the potatoes, radish tops and carrot and toss to coat. Pour in chicken broth and bring to a boil. Reduce heat and simmer 30 minutes.
Remove from heat and allow to cool for 10 minutes. Transfer mixture into a blender. Blend until smooth.
Return mixture to saucepan over medium heat. Mix in cream and cook and stir until well-blended and heated through. Serve with crusty bread.



Green Bean and Radish Almondine - this radish recipe makes a great side dish, the radishes add a new twist to this old favorite


1 pound fresh green beans
2 tablespoons butter
1/4 onion, thinly sliced
1 teaspoon lemon juice
1 teaspoon soy sauce
1/4 cup sliced radishes
2 tablespoon sliced almonds

Place green beans in large saucepan and cover with water. Bring to a simmer and cook for 10 minutes or until crisp-tender. Drain and set aside.
In a skillet, melt butter over medium heat and add onions. Cook until just tender. Add lemon juice and soy sauce and mix to combine. Add beans to onion mixture and toss to coat. Heat beans through and finish by sprinkling radishes and almonds over the top. Serve immediately.



Radish Vinaigrette Dressing - this radish recipe makes a unique dressing that can be used as a spicy dipping sauce or to dress a salad


1 medium shallot, minced
2 teaspoons dijon mustard
2 tablespoons rice wine vinegar
2 tablespoons red wine vinegar
2 medium radishes, minced
1/2 cup extra-virgin olive oil
salt and pepper to taste

Whisk shallot, mustard, rice wine vinegar, red wine vinegar and radishes together in a bowl. Slowly whisk in oil in a steady stream to form a thick dressing. Use immediately or can keep covered at room temperature and held for several hours until ready to use.


Click here to move from our Radish Recipes page to our Growing Radishes main page