Watermelon Varieties - What's the Difference?

There are several watermelon varieties available to the backyard vegetable gardener. Some varieties are seedless. others have orange or yellow flesh, instead of red. Some varieties are small, while others can grow to more than 200 pounds. There's even a variety that has speckled skin that resembles the moon and stars in the night sky.
Here's a list of some more common watermelon varieties, along with fruit and plant descriptions.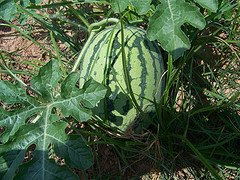 Sugar Baby - matures in 75 days, very sweet melons weighing 9 pounds, red flesh, short vining plants, good for limited space


Moon and Stars - matures in 95 days, dark green skin with yellow spots resembling moon and stars in the night sky, sweet melons reach 40 pounds, pink to red flesh
Black Diamond - matures in 90 days, very round melon weighs up to 75 pounds, vibrant red flesh, good all-around watermelon


Yellow Crimson - matures in 80 days, round melons reach 20 pounds, bright yellow flesh with black seeds, sweet taste


Orange Tendersweet - matures in 85 days, bright orange flesh with white seeds, sweet and tender, melons reach 25 pounds


Orangeglo - matures in 90 days, very sweet and crisp, oval-shaped melons average 40 pounds, bright orange flesh with off-white seeds


Kleckley's Sweet - matures in 85 days, extra crisp and sweet, thin rind, red flesh with white seeds, 40 pound melons, heirloom variety


Big Crimson - matures in 90 days, this variety of watermelon produces 30 pound melons, sweet, red flesh, dark green skin


Charleston Gray - matures in 85 days, long vigorous vines, light green skin with sweet red flesh, 30 pounds
Crimson Sweet - matures in 85 days, this watermelon variety produces 25 pound melons with sweet red flesh, high sugar content, thin rinds, very disease resistant




Jubilee - matures in 95 days, 40 pound melons with green stripes and red flesh, very fine texture, grows well in hot weather


Louisiana Sweet - matures in 90 days, oblong melons reach 25 pounds, bright red flesh is crisp and sweet, black seeds


Ruby Hybrid Seedless - matures in 85 days, oval shaped melons reach 8 pounds, crisp and super sweet flesh, seedless


Carolina Cross - matures in 100 days, this watermelon variety produces 200+ pound melons, sweet red flesh, oblong shape


Georgia Rattlesnake - matures in 90 days, pale green stripes resemble a snake skin, bright pink flesh, sweet and crisp, reaches 30 pounds, heirloom variety


Congo - matures in 90 days, round melons reach 35 pounds, green stripes, sweet red flesh and thick rinds

Snack Pack - matures in 75 days, 3-4 pound round melons, sweet red flesh, seedless, solid dark green skin


Sugarlee - matures in 85 days, 15 pound melons, very sweet red flesh, green striped rinds, disease resistant



Click here to learn about planting watermelon

Click here to learn about watering and fertilizing watermelon plants

Click here to learn about harvesting watermelon

Click here for some of our favorite watermelon recipes

Click here to move from our Watermelon Varieties page to our Growing Watermelon main page

Click here to return to our Home page