Watermelon Recipes for the Backyard Vegetable Gardener

Most people are surprised to learn that there are thousands of watermelon recipes. It's a much more versatile ingredient than people realize. Of course, watermelon is very good eaten sliced or cut up in salad. However, it also can be used to make smoothies, drinks, pies, cakes etc... We've even heard of deep frying watermelon, although we've never tried it. Before we get to some of our favorite watermelon recipes, here is some nutrient information...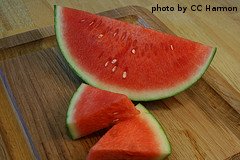 One cup of diced watermelon contains:


46 calories
11g carbs
12mg vitamin C
11mg Calcium
170mg Potassium
1mg Sodium
Here are some of our favorite watermelon recipes:



Watermelon Salsa - this watermelon recipe is surprising to many people, but the sweet and spicy combination is delicious, a guaranteed hit at any party

4 cups watermelon, seeded and finely diced into 1/8 inch cubes
1 small red onion, finely diced
3 jalapeno peppers, seeded and finely diced
2 tablespoons lime juice
1 garlic clove, minced
2 tablespoons balsamic vinegar
1/4 cup fresh cilantro
2 teaspoons salt

After dicing the watermelon, place it in a strainer and let it drain for 10 minutes.
In a serving bowl, combine watermelon, onion, peppers, lime juice, garlic, balsamic vinegar, cilantro and salt. Stir will to combine.
Cover and chill in refrigerator for 2 hours before serving. Serve with tortilla chips.



Drunken Watermelon - this watermelon recipe makes a refreshing snack for adults, the alcohol will sneak up on you, good for picnics or BBQs

1 large seedless watermelon
1 bottle (750 milliliters) vodka

Before starting, make sure you have enough room in your refrigerator to store the watermelon overnight.
Put the watermelon on a baking sheet on a counter top with the flat spot down so it doesn't roll. Using a small knife, cut a small hole in the top of the watermelon. Make sure that the hole is big enough for the mouth of the vodka bottle. Open the bottle of vodka and place it upside down in the hole. Remove bottle when empty. Keep the watermelon on the baking sheet and place in refrigerator overnight.
To serve, slice cold watermelon on the baking sheet to catch the juices.
When served cold, the taste of the vodka is non-existent. However, the effects of the vodka will surely be felt, depending on how much watermelon you eat.



Basil Infused Watermelon Sorbet - this watermelon recipe makes a cool, refreshing dessert

1 cup water
1 cup white sugar
2 tablespoons fresh basil, roughly chopped
3 tablespoon lime juice
4 cups seeded watermelon, cubed

Heat water, sugar and basil in a saucepan over medium heat until sugar has dissolved. Let cool to room temperature. Pour through a strainer to remove basil leaves.
Place watermelon in a blender or food processor. Blend until smooth. Add in lime juice and sugar syrup and blend together. Pour into a large bowl. Cover and chill in fridge for 4 hours.
Pour the chilled watermelon mixture into an electric ice cream maker and freeze according to the manufacturer's directions. After it has reached the consistency of soft serve ice cream, transfer sorbet to a plastic container. Cover the surface of the sorbet with plastic wrap and the put the lid on the container. Place in freezer for several hours or overnight before serving.



Three Fruit Smoothie - this watermelon recipe makes a creamy and delicious smoothie, a tasty way to get your fruit

3/4 cups frozen strawberries
3/4 cup frozen raspberries
1 1/2 cups watermelon, seeded and diced
1/4 cup half and half
1/4 cup plain yogurt
1 tablespoon lemon juice
1 tablespoon orange juice
1 tablespoon white sugar
1/2 teaspoon vanilla extract

Place strawberries, raspberries, watermelon, half and half, yogurt, lemon juice, orange juice, sugar and vanilla in a blender or food processor. Blend until smooth. Serve immediately.



Watermelon Cream Pie - this surprising watermelon recipe is quick and easy and makes a refreshing and creamy dessert, a perfect end to any summer meal

2 cups graham cracker crumbs
2 tablespoon white sugar
1 teaspoon cinnamon
2 tablespoons butter, melted
1 (3 oz) package watermelon flavored gelatin
1/4 cup boiling water
1 (12 oz) container frozen whipped topping, thawed
2 cups watermelon, seeds removed and finely diced

Preheat oven to 350 degrees F.
In a 9 inch pie tin, mix together graham cracker crumbs, sugar, cinnamon and melted butter. Stir will to combine and press onto the bottom and sides of the pie tin. Place in oven and bake 20 minutes. Remove from oven and let cool on cooling rack.
In a medium bowl, whisk together gelatin and boiling water. Let cool.
Fold in whipped topping and diced watermelon. Pour into the cooled graham cracker crust. Chill in refrigerator for 4 hours before serving.



Strawberry Watermelon Lemon Limeade - this watermelon recipe makes a delicious drink with complex flavors, great non-alcoholic alternative for cocktail parties

8 cups watermelon, seeded and cut into chunks
1 cup fresh strawberries, halved
1/4 cup lemon juice
1/4 cup lime juice
1/2 cup white sugar
1 cup lemon-lime soda
1 cup water

To a blender or food processor, add watermelon, strawberries, lemon juice, lime juice, sugar, lemon-lime soda and water. Blend until smooth. Garnish with strawberries, watermelon chunks, or a twist of lemon or lime.



Click here to move from our Watermelon Recipes page to our Growing Watermelon main page

Click here to return to our Home page