Tomato Varieties - What's the Difference?

There are thousands of tomato varieties. Several hundred of these are readily available to backyard vegetable gardeners. Each variety has it's own unique characteristics and we encourage you to try several to find your own favorites.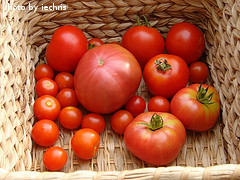 For our purposes, we have grouped tomatoes into 3 different categories:
Each of these categories are detailed below, and several of the more common varieties of tomatoes from each category are listed. We've included fruit descriptions and plant information, and heirloom varieties have been identified as such. Please note - the days to maturity are counted from the time the seedlings are transplanted.
Standard - these are the classic round or flattened, mostly red tomato varieties, includes very large beefsteak tomatoes and slicing tomatoes
Big Boy - this variety is about the size of a baseball, bright red and very round and sweet, ready in 78 days, tomatoes average 10-16 ounces
Sweet Seedless - this seedless tomato variety is very sweet and juicy, muted red fruit are round and average 8-10 ounces, ready in 70 days



Fresh Salsa - this variety is available exclusively from the Burpee Seed Company, tomatoes are egg shaped and bright red, average 4-5 ounces each, can be chopped into tiny cubes that hold their shape, less seeds than other varieties, ready in 70 days



Big Beef - All-America Winner, bright red fruit is firm and juicy and sweet, average 10-12 ounces, high yields, ready in 73 days



Big Pink - this tomato variety features a bright pink color, squatty fruit average 8-10 ounces, good slicing variety, big tomato flavor, ready in 75 days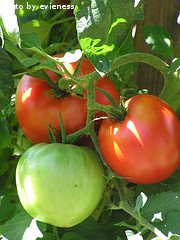 Celebrity - ready in 70 days, round fruit are red-orange and average 7 ounces, excellent disease resistance, heavy yields, sweet and juicy
Beefsteak Organic - certified organic, large fruits average 24 ounces each, round and red and very meaty, ready in 85 days, sweet and juicy
Early Girl - high yields, round and red fruit average 5 ounces each, sweet and meaty, ready in just 65 days
Super Beefsteak - very flavorful, sweet and meaty, smooth and round fruit is bright red, average 1 pound each, ready in 80 days, good yields
Delicious - this variety is ready in 77 days, slightly flattened fruits average 1 pound each, smooth and bright red, big flavor
Marglobe - large and uniformly round, ready in 73 days, red fruit average 6-7 ounces each, good combination of sweet and tart
Bloody Butcher - smaller slicing variety, rich red color and big taste, round fruit average 2" across and 3-4 ounces each, extremely early variety, ready in just 55 days, fruit appears in clusters for easy harvest
Enchantment - bright red fruit are plum-shaped, average 4 ounces each, good yields and disease resistance, make excellent sun-dried tomatoes, meaty and sweet, ready in 70 days
Best Boy - round red/orange fruit average 8 ounces, good disease resistance, firm and meaty, smooth skin, ready in 70 days
Black Krim - this heirloom variety averages 8 ounce fruits that are round and burgundy in color, rich and sweet, ready in 80 days, one of the more popular heirloom varieties



Mortgage Lifter - heirloom created by a gardener in the 1930s, very large red fruit with texture similar to a beefsteak, fruit average 24 ounces each, big flavor, ready in 80 days



Cherokee Purple - this heirloom variety features reddish-purple skin and red flesh, tomatoes average 5" across and 3.5" tall and are 13 ounces, ready in 85 days, rich and full flavor



Rutgers - heirloom, a legendary Jersey tomato, red fruit is slightly flattened, averages 5 ounces each, ready in 74 days, great flavor and plump and juicy



Arkansas Traveler - this heirloom variety dates back about 100 years, deep red and pink fruits average 6-8 ounces, sweet and tart at the same time, good disease resistance, ready in 85 days



Giant Pink Belgium - this heirloom variety produces very large fruit, average 1-2 pounds each, flattened shape with lots of ribs and lobes, bright pink skin, low acidity, sweet and mild, ready in 88 days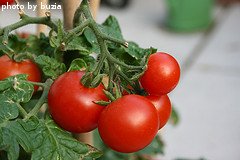 Druzba - heirloom, round and red fruit average 5 ounces each, 4" across with very smooth skin, meaty and sweet, excellent slicing tomato, ready in 80 days
Thessaloniki - Greek heirloom variety introduced to the USA in the 1950s, round and red fruit average 5 ounces, very smooth and uniform, meaty and big on flavor, fruit holds well on vine when ripe, ready in 75 days
German Johnson - this heirloom tomato variety features large fruits that average 1 pound each, developed in the early 1900s in West Virginia, pinkish-red and slightly flattened with large lobes, good disease resistance, ready in 80 days
Brandywine Red - heirloom, very flavorful and not acidic, fruit average 8 ounces, round and pinkish-red, good slicing tomato, ready in 80 days
Omar's Lebanese - this heirloom variety originated in Lebanon, ready in 80 days, pinkish-red fruits average 1.5 pounds each, flattened with distinct ribs and lobes, sweet and rich, good disease resistance
Quarter Century - heirloom, ready in 85 days, introduced in 1901 by the Burpee Seed Company, round and red fruit average 10-12 ounces each, mild flavor, good disease resistance
Pruden's Purple - heirloom, features dark pinkish purple fruit, slightly flattened and averaging 1 pound each, meaty flesh has few seeds, ready in 80 days
German Pink - this heirloom tomato variety features flattened fruit with big lobes and ribs, rich and sweet flavor, orange fruit is nearly seedless and averages 1 pound each, ready in 85 days
Caspian Pink - heirloom, ready in 80 days, pink fruit average 12 ounces, mild and complex flavor, slightly flattened with big lobes, originated in Russia
Stupice - Czechoslovakian heirloom variety features round and red fruits, 2" across, rich and tangy, early producer is ready in 60 days
Jaune Flamme - French heirloom tomato variety is ready in 75 days, deep orange fruit are round and uniform, sweet and tart, fruit average 3-4 ounces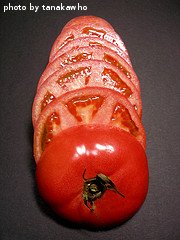 Burpee's Jubilee - this heirloom tomato variety dates back to the 1940s, bright orange and round fruits average 6 ounces each, 3" across with smooth skin, mild and complex flavor, high yields, ready in 80 days
Amana Orange - extremely large heirloom variety originated in Iowa more than 150 years ago, mild and sweet, beefy fruit is red-orange and averages more than a pound, flattened with big lobes, ready in 90 days
Pink Cadillac - round and red fruit average 9 ounces, good disease resistance, sweet and mild, vines can reach 8 feet, good for slicing, ready in 65 days
Cobra - this tomato variety features red and round fruit, average 7 ounces each, sweet and tangy, good disease resistance, ready in 72 days
Manitoba - heirloom, round and red tomato average 3"-4" across, sweet and tangy, very productive, decent disease resistance, good for slicing or canning, ready in 66 days
Mini - these include grape and cherry tomato varieties
Sun Gold - this variety features golden-orange cherry tomatoes that average 1 ounce each, very sweet and juicy, fruit grows in large clusters, ready in 65 days



Honeybunch - this variety is extremely sweet, fruit is red and averages less than 1/2" across, very good yields, early producer and ready in 60 days



Super Sweet 100 - this tomato variety produces cherry-sized fruits that are bright red, very sweet and tangy and juicy, grows in long clusters, high yields, ready in 70 days



Mountain Magic - a very large mini-tomato variety, round and red fruit average 2-3 ounces each, about the size of a golf ball, very good disease resistance, sweet and plump, ready in 75 days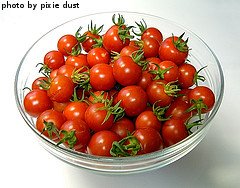 Sweet Baby Girl - ready in 65 days, vines reach 4 feet tall, very sweet round and red tomatoes average less than 1 ounce each, juicy and plump
Tumbling Tom Yellow - this tomato variety is ideal for hanging containers, fruit are bright yellow and sweet, fruit average 1.5" across, compact plants average less than 2 feet long and 6" across, ready in 75 days
Cherries Jubilee - each plant produces hundreds of 3/4" fruit that are round and red, sweet and tangy, ready in 70 days, plants are bushy are rarely reach 3 feet tall
Cherry Roma - this variety features bright red oblong fruit that average 2" long, look like miniature roma tomatoes, very sweet and juicy, ready in 75 days
Chadwick Cherry Organic - ready in 85 days, red and juicy tomatoes are round and average 1" across, good disease resistance, certified organic, very good yields on vigorous vines
Juliet - this variety produces oblong cherry tomatoes, resembles a miniature paste tomato, dark orange, juicy and sweet, vigorous vines, ready in 60 days
Red Currant - very small fruit are red and round, average 1/2" across, firm and juicy, sweet and tangy, very high yields, fruit appears in large clusters for easy harvest, ready in 70 days
Little Girl - fruits average 1" across, red and round fruit grow in ladder-like rows for easy harvest, sweet and juicy, ready in 70 days
Christmas Grapes - round fruit average 1" across, grows in clusters for easy harvest, bright red and very sweet with good tomato flavor, high yields, ready in 75 days
Baxter's Bush Cherry - this tomato variety features bushy plants, fruit is round and red and averages 1" across, early cherry tomato variety is ready in 70 days, plump and juicy
Black Cherry - heirloom, ready in 65 days, dark red fruit is juicy and round and averages 1" across, rich and sweet and complex flavor, good yields
Gardener's Delight - heirloom, a round and red cherry tomato, ready in 65 days, fruit grows in clusters of 6-12, extra sweet, average 1 ounce



Riesentraube - this German heirloom variety dates back to the 1850s, produces cherry tomatoes that average 1 ounce, bright red fruit appears in huge clusters for easy harvest, rich and meaty flavor, ready in 80 days



Yellow Currant - heirloom, tiny fruits average 1/2" across, round and golden yellow, fruit grows in clusters for easy harvest, sweet and tart flavor, firm and juicy, ready in 70 days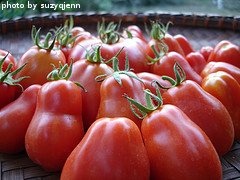 Red Pear - heirloom, bright red pear-shaped fruit average 1.5" long, USA history going back 250+ years, plump and juicy, vines can reach 7 feet tall, ready in 75 days
Jelly Beans - ready in 66 days, oblong fruit is red and averages 1" long, sweet and juicy, fruit appears in clusters to make harvest easy
Chocolate Cherry - brick red fruit with chocolate-colored shading, fruit average 1" across, ready in 70 days, sweet and juicy
Tomatoberry - ready in 55 days, unique strawberry shape, fruit average 1" across, great flavor, high yields, plump and juicy
Orange Paruche - this tomato variety produces round fruit that is bright orange, 1" across and packed with sweet flavor, high yields, good disease resistance, ready in 67 days
Specialty - these include tomato varieties that are extremely unique in color or shape, also includes paste tomatoes
Tye-Dye - produces bi-color fruit, golden orange marbled with streaks of red, sweet with low acidity, fruit are round and average 7 ounces, ready in 78 days, good yields and moderate disease resistance, available exclusively from the Burpee Seed Company



Tangerine Mama - a yellow paste tomato variety, very tangy, oblong fruit are golden orange and average 3-4 ounces, retains its color even when cooked, ready in 68 days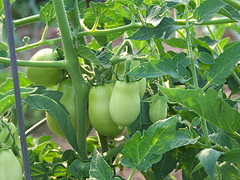 Roma - classic Italian paste tomato, fruit average 3 ounces each, oblong in shape and bright red, skins slip off easily, good for sauces, meaty and tangy, ready in 76 days
Viva Italia - an excellent paste tomato variety, red/orange fruits average 3 ounces each and are oblong, ready in 80 days
Yellow Pear - this heirloom variety produces bright yellow fruit in the shape of a pear, fruit average 2-4 ounces and 1.5" long, ready in 75 days, high yields, plants can reach 7 feet tall
Big Rainbow - heirloom, ready in 85 days, large yellow fruit are marbled with streaks of red in the bottom half, lumpy appearance, mild and sweet, very eye catching
Red Zebra - this heirloom variety produces 2-3" round red fruit that features streaks of orange and yellow, tart flavor, ready in 80 days,
Green Zebra - heirloom, ready in 78 days, fruits are light green with dark green or yellow streaks, flattened fruit averages 2-4 ounces each, ready in 85 days
Amish Paste - very large heirloom paste tomato variety, oblong fruit are dark orange/red and average 6 ounces each, good balance of sweet and acid, meaty, skins slip off easily, good for sauces, ready in 85 days
Mr. Stripey - heirloom these sweet tasting fruits average more than 1 pound each, orange with pink and red striping, slightly flattened with lots of ribs and lobes, ready in 80 days
Super Italian Paste - heirloom, oblong fruit average 6" and 10 ounces, reddish orange, sweet and meaty, skins slip off easily, great for sauces, ready in 75 days
Persimmon - heirloom, golden fruit average 1 pound each, this variety originated in Russia, slightly flattened, low acidity and big flavor, plants reach 4 feet tall, ready in 80 days
Polish Linguisa - heirloom, this Eastern Europe paste tomato variety features 10 ounce reddish-orange fruit, elongated fruit in the shape of a sausage, good for sauces and canning, ready in 73 days
Garden Peach - unique heirloom variety resembles a Golden Delicious apple, introduced to the USA in the 1860s, fruits have golden yellow skin and average 2-3 ounces each, very round and smooth, rich flavor, ready in 75 days
Orange Roma - heirloom, bright orange color, ready in 70 days, nearly seedless, sweet and flavorful, good for orange sauces and salsas, fruit average 4 ounces each
Green Grape - heirloom, tart fruit average 1" across, mostly round and yellow-green in color, fruit grows in clusters for easy harvest, ready in 60 days
Purple Calabash - this heirloom variety dates back to pre-Colombian Mexico and was used by the Aztecs, called the ugliest tomato, dark red and purple, fruit is extremely flattened with huge lobes and ribs, sweet and tart with hints of citrus, ready in 75 days
San Marzano Gigante #3 - this heirloom variety averages 2" across and 7" long, meaty with very few seeds, great for sauces and salsas, very robust flavor, fruit is red/orange, ready in 90 days
Taxi - this heirloom variety produces bright yellow fruit, ready in 80 days, plants are compact and average 2 feet tall and 2 feet across, heavy yields, fruits are round and average 4 ounces each
Heinz #2653 - this heirloom tomato variety is a top paste tomato, very meaty, lots of fruit mature all at the same time, great for canning, red fruits average 2.5 ounces each and are slightly oblong, good disease resistance, ready in 80 days
Pink Accordion - this heirloom variety is ready in 72 days, pink fruit is very flat and scalloped, averages 4"-5" across, meaty texture, sweet with low acidity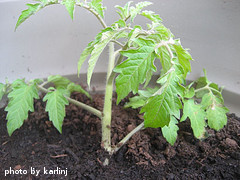 Click here to learn about planting tomatoes


Click here for information about watering tomato plants


Click here to learn about fertilizing tomato plants


Click here to learn about harvesting tomatoes


Click here for help deciding whether to grow tomatoes from seeds or seedlings


Click here to learn how to support your tomatoes with cages or stakes


Click here to diagnose and cure common tomato plant diseases


Click here to move from our Tomato Varieties page to our Growing Tomatoes main page


Click here to go to our Home page