Tomato Recipes for the Backyard Vegetable Gardener
Some of our favorite tomato recipes call for fresh tomatoes. You can't get fresher tomatoes than those you just picked from your garden. Tomatoes are packed with vitamins. They also contain lycopene, which some studies suggest may lower cancer risks. Lycopene is the chemical in tomatoes that causes them to turn red. Some studies suggest that lycopene is more beneficial if it's absorbed from raw tomatoes. If you're interested in the maximum benefits of lycopene, look for tomato recipes that feature raw tomatoes.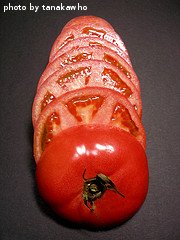 A medium-sized tomato contains:
1g of protein
1.5g of fiber
400 mg of potassium
32mg of calcium
11mg sodium
25mg vitamin C
Tomatoes also contain Vitamin A, Folate, Niacin and Iron.



Here are a few of our favorite fresh tomato recipes:



Tomato Bruschetta - easy and light, makes a nice side dish or anti-pasta
3 medium sized ripe tomatoes, diced
2 teaspoons dried basil
6 tablespoon grated Parmesan cheese
3 tablespoons olive oil
1 large garlic clove, crushed
1 teaspoon salt
1 teaspoon ground black pepper
1 loaf French bread, sliced

In a medium sized bowl, mix the diced tomatoes, basil, Parmesan cheese, olive oil, garlic, salt and pepper. Cover and chill in refrigerator for 4 hours. Toast the slices of bread. Spread the tomato mixture over the bread and serve immediately.



Pasta and Tomatoes - a flavorful, uncooked sauce makes this tomato recipe a summertime favorite
6 medium ripe tomatoes, seeded and chopped
4 cloves of garlic, minced
1/2 cup fresh basil, chopped

1 tablespoon dried oregano

1/2 cup olive oil

1 teaspoon lemon juice

1 teaspoon salt

4 tablespoons grated Parmesan cheese

1 pound of pasta

In a medium bowl, combine tomatoes, garlic, basil, oregano, olive oil, lemon juice and salt. Cover with plastic wrap. Allow to sit at room temperature for 4-6 hours. Cook pasta and drain. Pour uncooked tomato mixture over the pasta and toss. Add Parmesan cheese on top and serve immediately.



Stuffed Tomatoes - Tomato recipe that can serve as a side dish or main course
1 cup of cooked rice
4 ounces goat cheese, diced and softened
1/4 bell pepper, finely diced
2 tablespoons olive oil
1 teaspoon salt
1 teaspoon ground black pepper
6 tablespoons bread crumbs
3 tablespoons grated Parmesan cheese
1 tablespoon dried basil

Preheat the oven broiler. Slice the tops off the tomatoes and use a spoon to hollow out by removing the seeds. Turn tomatoes upside down on a sheet pan and let drain. In a medium bowl, combine cooked rice, goat cheese, pepper, olive oil, salt and pepper. In a separate bowl, combine bread crumbs, Parmesan cheese and basil. Place tomatoes right side up in a baking dish. Spoon rice mixture into tomatoes. Top with bread crumb mixture. Place under broiler for 5-7 minutes until bread crumbs are golden brown. Serve immediately.



Salsa - spicy sweet with bright flavors, everything a good salsa should be
6 large ripe tomatoes, mostly seeded and diced
1 green bell pepper, diced
1 small white onion, diced
1/2 cup fresh cilantro, finely chopped
2 tablespoons lime juice
2 jalapeno peppers, seeded and finely diced
1 clove garlic, minced
1 teaspoon salt
1/2 teaspoon dried oregano
1 teaspoon white sugar

In a medium bowl, combine all ingredients. Cover with plastic wrap and place in refrigerator for several hours or overnight. Serve with tortilla chips. For a less chunky salsa, puree all ingredients in food processor to desired consistency.



Cherry Tomato Salad - a party favorite, also a good anti-pasta tomato recipe
4 cups cherry tomatoes, halved
1/4 cup olive oil
2 tablespoons cider vinegar
1 tablespoon balsamic vinegar
1 tablespoon dried basil
1 teaspoon dried parsley
1 teaspoon dried oregano
1/2 teaspoon salt
1 1/2 teaspoons white sugar

In a small bowl, mix together olive oil, cider vinegar, balsamic vinegar, basil, parsley, oregano, salt and sugar. Pour mixture over cherry tomatoes in a serving bowl. Gently stir to coat all tomatoes. Chill in refrigerator for 2-4 hours before serving.



Tomato Sauce - a classic sauce recipe that uses fresh tomatoes
2 tablespoons butter
2 tablespoon olive oil
1 onion, finely minced
1 green bell pepper, finely minced
2 carrots, finely minced
1 stalk celery, finely minced
4 cloves garlic, minced
1/2 cup fresh basil, chopped
1 teaspoon dried oregano
1/2 teaspoon red pepper flakes
1/4 cup dry red wine
1 bay leaf
2 tablespoons tomato paste

Bring large pot of water to boil. Add tomatoes and boil until skin starts to peel. Remove tomatoes and let rest until cool enough to handle. Remove tomato skins and squeeze out the seeds. Roughly chop 8 of the tomatoes and puree in a blender or food processor. Chop remaining 2 tomatoes and set aside.
In a large pot, melt butter and olive oil. Add in onion, pepper, carrots, celery and saute over medium heat until soft. Add in tomato puree, garlic, basil, oregano, red pepper, red wine and bay leaf. Simmer for 1 hour. Stir in tomato paste and remaining chopped tomatoes. Simmer another 2 hours. Remove bay leaf before serving.




Click here to move from our Tomato Recipes page to our Growing Tomatoes main page.

Click here to go to our Home page