Pepper Recipes for the Backyard Vegetable Gardener
Most of our favorite pepper recipes call for fresh peppers. You can't find fresher peppers than those you just picked yourself. Additionally, eating peppers, both hot and sweet, is good for your health.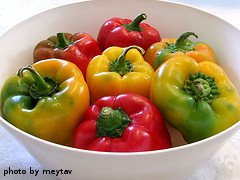 Here are some nutrition facts about sweet peppers. On average, one cup of chopped sweet peppers contains:
3g fiber
13mg calcium
15mg magnesium
263mg potassium
3mg sodium
283g vitamin C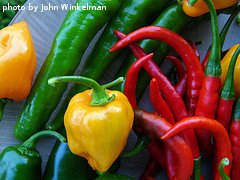 There are many hot pepper varieties available, each with their own nutritional information. Hot peppers contain capsaicin, which research suggests may have many health benefits, including pain relief. It may also aid digestive and circulatory health. Research also suggests that capsaicin may thin blood platelets, reducing the risks of heart attacks or blood clots and lowering cholesterol levels. Capsaicin may also suppress appetite and help boost metabolism.


Here are some of our favorite pepper recipes.



Jalapeno Poppers - a hot pepper recipe that makes almost the same appetizer you'll find in restaurants
12 fresh Jalapeno peppers
3 oz cream cheese, softened
3 oz shredded cheddar cheese
1/2 teaspoon salt
3 large eggs
2 tablespoons milk
1 cup flour
1 cup fine bread crumbs
vegetable oil

Heat 2 inches of oil in a sauce pan to 350 degrees F.
Cut a slit lengthwise in each pepper from stem to bottom. Insert a knife and remove the seeds and veins.
Mix together cream cheese, cheddar cheese and salt. Stuff cheese mixture into peppers. Press the seam closed so that the pepper retains its shape.
Beat 3 eggs and milk in a shallow bowl. Put flour in a separate shallow bowl. Put bread crumbs in a third separate shallow bowl.
Dip stuffed peppers in egg/milk mixture. Then roll in flour until covered and place on a plate. Repeat this process until all peppers are covered with flour.
Dip floured peppers back into milk/egg mixture and roll in bread crumbs until well covered.
Fry the stuffed peppers 3-4 at a time until golden brown, turning once - usually 4-5 minutes. Drain on paper towels and serve. This pepper recipe can be modified with mozarella cheese, Monterrey jack cheese, etc...



Stuffed Bell Peppers - a pepper recipe that's a family favorite during the summer
4 teaspoon olive oil
1 yellow onion, diced
1 clove garlic, minced
1 pound ground meat (your choice)
1 cup cooked rice
1 large tomato, mostly seeded and diced
1 teaspoon salt
1 teaspoon pepper
1 teaspoon dried oregano
1/2 teaspoon dried thyme
1/4 cup ketchup
1 tablespoon Worcestershire sauce
1 tablespoon Tabasco sauce
3/4 cup fine bread crumbs
4 tablespoons grated Parmesan cheese

Preheat oven to broil. Bring a pot of water to a boil on high heat. Cut the tops off the peppers and take out the seeds and membranes. Add peppers to boiling water and turn off heat. Let peppers sit in hot water for 3 minutes. Remove from pot, drain and set aside.
Cook ground meat in a skillet. Once cooked, drain off fat using a colander and return the meat to the skillet. Add oil, garlic and onions and saute over medium heat for 3 minutes or until onions and garlic are softened. Turn off heat and add in rice, tomato, oregano, thyme, salt and pepper. Combine thoroughly. Add ketchup, Worcestershire sauce and Tabasco sauce to rice and meat mixture and mix thoroughly.
Place peppers in a baking dish. Stuff peppers with meat and rice mixture. Top each pepper with 1 tablespoon Parmesan cheese. Add bread crumbs on top of the cheese.
Place baking dish under broiler for 4-5 minutes, until bread crumbs are golden brown. Serve immediately.



Flaming Hot Chili - with 4 kinds of hot peppers, this chili pepper recipe will make you sweat - even on a cold winter day
1 pound lean ground beef
1 pound ground pork
1 pound bratwurst
1 large yellow onion, finely diced
6 cloves garlic, minced
1 habanero pepper*, seeded, deveined and minced
6 jalapeno peppers*, seeded and finely diced
2 cayenne peppers*, seeded, deveined and minced
2 Serrano chili peppers*, seeded and finely diced
1 large bell pepper, seeded and finely diced
3 tablespoons dried cumin
3 tablespoons dried parsley
1 tablespoon oregano
1/2 teaspoon celery seed
1 teaspoon salt
1 teaspoon ground black pepper
2 24 oz cans crushed tomatoes
1 8 oz can diced tomatoes or 1 fresh tomato, diced
1 4 oz can tomato paste
3 24 oz cans kidney beans, drained
1 12 oz can or beer

Remove casing from the bratwurst and crumble the meat into a large pot. Add beef and pork to the bratwurst and brown over medium high heat. Drain meat using a colander, reserving 4 tablespoons of fat. Set aside the browned meat. To the pot, add fat, onions, garlic, habanero, jalapeno, cayenne, Serrano and bell peppers and saute over medium heat until soft. Return meat to the pot and combine with onions, garlic and peppers. Mix in cumin, parsley, oregano, celery seed, salt and ground black pepper. Add crushed tomatoes and diced tomatoes and stir thoroughly. Cover and simmer 30 minutes. Stir in tomato paste, kidney beans and beer. Cover and simmer for 2 hours, stirring occasionally. Serve with crackers or corn chips.
*Warning: Use plastic gloves when handling hot peppers. Avoid touching your face or arms with the peppers or gloves after handling the peppers.



Sausage and Peppers With Penne Pasta - A classic pepper recipe and oh so easy
1 pound hot Italian sausage
1 pound sweet Italian sausage
2 green bell peppers
2 yellow bell peppers
2 red bell peppers
1 white onion
4 cloves garlic, minced
32 oz tomato sauce
2 14 oz cans diced tomatoes, undrained
4 teaspoons Italian seasoning
1/2 cup grated Parmesan cheese
1 tablespoon parsley, chopped
Cook pasta, drain and keep warm.
In a large skillet over medium-high heat, cook sausage 15-20 minutes or until cooked through and browned, turning occasionally. Remove sausages from skillet. Slice into 1 inch pieces and set aside.
Cut bell peppers and onion into 1/4" slices. In the same skillet, cook onions and garlic over medium heat until softened. Add peppers and cook until they begin to soften but are still slightly firm. Add sausage, diced tomatoes, tomato sauce and Italian seasoning into the skillet. Stir and heat through.
Place cooked pasta in a large serving bowl. Pour sausage mixture over pasta, tossing to coat. Sprinkle Parmesan cheese and parsley over the top. Serve immediately.



Refrigerated Pickled Peppers - This pepper recipe is a great way to use hot or sweet peppers, makes 4 quarts, also works great with green beans, cucumbers, etc..., pickled vegetables remain relatively firm
12 cups of peppers (about 3 pounds), hot or sweet, chopped or whole depending on pepper size
8 cloves garlic, peeled and left whole
1 teaspoon celery seed
8 teaspoons dill weed
8 teaspoons mustard seed, crushed
4 cups water
4 cups white distilled vinegar
8 tablespoons kosher salt
8 teaspoons white sugar

Sterilize 4 quart-sized jars and lids by boiling in hot water for several minutes. Wipe dry with clean cloth.
Pack 3 cups of peppers and 2 cloves of garlic in each jar. Chop bell peppers or large varieties of hot peppers to fit into jars. For smaller peppers, trim off most of the stem and use a paring knife to puncture a small hole in the peppers. Pack the whole peppers into the jars.
To each jar, add 1/4 teaspoon celery seed, 2 teaspoons dill weed and 2 teaspoons mustard seed.
In a large mixing bowl, mix together water, vinegar, salt and sugar until dissolved. Fill each jar with liquid.
Tighten the lids and refrigerate at least 2 weeks before eating. Will keep in refrigerator for several months.



We hope you enjoy these pepper recipes as much as our family does.

Click here to move from our Pepper Recipes page back to the Growing Peppers main page

Click here to return to our Home page