Kale Varieties - What's the Difference?


There are a few different kale varieties available to the backyard vegetable gardener. These can vary in size, shape and color. Some varieties mature a bit earlier than other varieties. You can use this to your advantage when growing kale. If you are growing a spring crop, choose a fast growing variety to get the most leaves before the summer weather gets too hot. For fall and winter crop, choose a slower growing variety that won't mature until after a hard freeze. Here is a partial list of some common varieties of kale. Please note, the days to harvest are counted after germination.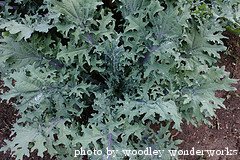 Red Winter - this variety features dark green leaves that resemble the shape of oak leaves, purple veins, very tender, ready in 65 days


Blue Curled Yates - early variety ready in 55 days, blue-green leaves and veins, leaves have ruffled edges with a slight curl to them


Red Russian - grayish-green leaves, tall variety of kale with plants reaching almost 3 feet, reddish-purple stems, ridged leaves resemble very large oak leaves, ready in 60 days



Black Magic - this kale variety is relatively new, leaves are long and narrow, ready in 60 days, crinkled leaves are curled at the edge, different shades of green from medium to dark, light green stems and veins


Winterbor - very hardy variety, good choice for growing in winter, blue-green leaves are thick and finely curled, ready in 60 days, plants reach 2 feet tall


Redbor - this kale variety is mild and crisp, leaves are reddish-purple with pinkish stems and veins, very early variety and good choice for spring, ready in 50 days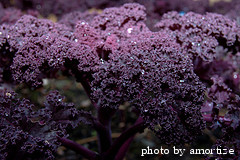 There are lots of other kale varieties that can be found in seed catalogs and online stores. We suggest planting a few different varieties of kale that vary in color and shape. This makes for an attractive garden and a nice mix of colors and textures on your plate.
Click on the following links for information about growing your own kale.