Kale Recipes for the Backyard Vegetable Gardener
We've got a few favorite kale recipes that we'll share below.  Kale can be baked, steamed, stewed, sauteed or eaten raw.  It has a unique flavor that makes an interesting side dish or addition to soup or salad.  Before we get to the recipes, here's some nutrient information: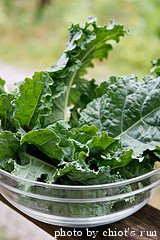 One cup chopped kale contains:
33 calories
7g carbs
2g protein
80mg vitamin C
547mcg vitamin K
91mg calcium
299mg potassium
Here are some of our favorite kale recipes:


Parmesan Kale Chips - this makes a great snack
1 bunch kale, torn into 2" pieces
2 tablespoons olive oil
1/4 cup grated Parmesan cheese
Preheat oven to 200 degrees F.
Place kale pieces into a large bowl.  Drizzle with olive oil and toss to coat.  Sprinkle on cheese and toss again to get an even distribution.
Line 2 baking sheets with foil.  Spray foil with non-stick spray.  Spread kale pieces onto baking sheets, making sure they are in a single layer.
Bake in preheated oven for 25 minutes.  Rotate pans and flip the chips.  They should be slightly crisp.  Bake another 25 minutes, checking frequently to make sure they don't burn.  Remove when chips are crisp and sprinkle with salt as desired.


Sauteed Kale with Pine Nuts - this kale recipe makes a great side dish
1/4 cup pine nuts
1/4 cup butter
1 bunch kale, roughly chopped
1/2 teaspoon red wine vinegar
1/2 cup shredded Parmesan cheese
Toast pine nuts in a dry skillet over medium-low heat about 5 minutes or until golden brown.  Remove pine nuts from skillet and let cool.
In the same skillet, melt butter over medium heat.  Add kale and saute about 10 minutes or until tender.  Pile kale into serving bowl and toss with pine nuts, vinegar and Parmesan cheese.  Serve immediately.


Creamy Sausage, Kale and Potato Soup  - this kale recipe makes a warm and comforting soup, perfect as an appetizer or as a meal all by itself
1 pound bulk sweet Italian sausage
1 onion, diced
3 cups half-and-half
3 cups cubed potatoes
2 cups chicken broth
3 cups whole milk
1/2 teaspoon dried oregano
1/2 teaspoon red pepper flakes
1/2 teaspoon salt
1/2 teaspoon black pepper
3 cups chopped kale leaves
Heat large pot over medium-high heat.  Add sausage and onions and cook until sausage is browned.  Drain and return sausage and onions to pot.  Add half-and-half, potatoes, broth, milk, oregano and red pepper flakes.  Stir and bring to a boil.  Reduce heat and simmer until potatoes are tender, about 25 minutes.  Season with salt and pepper.  Add kale and simmer another 10 minutes or until kale is tender.  Serve immediately.


Warm Kale Salad - this kale recipe makes a great sweet and savory salad
1 tablespoon vegetable oil
1 bunch kale, chopped
1/2 cup lemon juice
2 tablespoons olive oil
1 teaspoon honey
1/2 teaspoon salt
1/4 teaspoon ground black pepper
1 large tomato, chopped
1/2 cup sliced almonds
1/2 cup dried cranberries
Add the oil to a skillet and put over medium heat.  Add kale and saute5 minutes, until kale is warmed through and barely starts to soften.  Remove from heat.
In a large bowl, whisk together lemon juice, olive oil, honey, salt and pepper.  Add kale, tomato, almonds and cranberries.  Toss to combine and serve.


Rice Pilaf with Kale and Mushrooms - this kale recipes makes a good side dish, a great way to use up extra vegetables
3 tablespoons olive oil

1 tablespoon butter
1 cup chopped kale
1 small onion, diced
1/2 cup sliced button mushrooms
1 bell pepper, diced
2 cloves garlic, minced
2 cups cooked rice
1 teaspoon salt
1 teaspoon black pepper
1 tablespoon hot pepper sauce
Heat olive oil and butter in a skillet over medium heat.  Add kale, onion, mushrooms, bell pepper and garlic.  Saute until onion and kale is tender, about 7 minutes.  Add rice to mixture and stir to break up the grains.  Add salt, pepper and hot pepper sauce and cook until rice is hot, stirring constantly so it doesn't burn.  Serve immediately.

Click here to move from our Kale Recipes page to our Growing Kale main page