Questions About Growing Butternut Squash?

Growing butternut squash has become a yearly tradition for many folks. That's probably because butternut squash are so easy to plant, maintain and harvest. They are also delicious to eat in a wide variety of recipes. The plants don't take up too much room in the garden and bush varieties can even be grown in containers.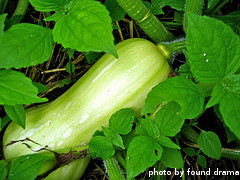 A typical butternut squash plant will produce 3-5 squash that can reach 2-4 pounds each. Occasionally, depending on growing conditions, much larger squash may be produced. A few butternut squash that exceed 20 pounds have been grown in the US.


When planting butternut squash, it's best to sow the seeds directly into the soil where you want the plant to
grow. Like other squash varieties, butternut squash transplants don't usually do well because they won't tolerate having their root systems disturbed. You'll need a spot that gets 6-8 hours of direct sunlight everyday. The soil should be well tilled until loose and airy to a depth of at least 8 inches. Since a typical butternut squash plant will produce several pounds of squash or more, the plant will need room to develop an expansive root system. They are also heavy feeders that thrive in nutrient-rich soil.


After harvesting, butternut squash can be stored for several months in the right conditions. They can be mashed, fried, steamed, roasted, boiled, baked, stuffed and used to make soups and stews.
Click on the following links to learn more about growing butternut squash.


Click here to learn about planting butternut squash


Click here for information about watering and fertilizing butternut squash plants


Click here to learn about harvesting butternut squash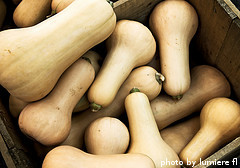 Click here for help diagnosing and curing butternut squash plant problems

Click here to move from our Growing Butternut Squash main page to our Butternut Squash Varieties page

Click here for some of our favorite butternut squash recipes