Butternut Squash Varieties - What's the Difference?

There are several different butternut squash varieties available to the backyard vegetable gardener. Most varieties are fairly similar in appearance and taste, with slight variations. When choosing a variety of butternut squash, first determine if you want a compact type plant or one that spreads vines out in excess of 8 feet or more. This decision depends on the amount of room you have in your garden for butternut squash plants. If you want to grow butternut squash in containers, look for varieties with "space saver", "bush" or "compact" on the label of the seed packet.
We are often asked about which is our favorite butternut squash variety.  We really like Rogosa Violina Gioia, which is an Italian heirloom variety.  It is by far the best tasting butternut squash we've ever had.  It produces very large squash that average 10+ pounds each.  The plants get huge, with some vines running 30 feet or more, and the squash mature at around 95 days.  The flesh is deep orange, sweet, nutty and fairly dry with almost no stringiness.  The squash is shaped like an hourglass and features a bumpy skin.

Here is a list of some of the more common butternut squash varieties, along with plant and fruit descriptions...
Butter Boy Hybrid - this variety produces 2-3 pound squash that are light orange in color, the tender flesh is bright orange and has a nutty and very sweet flavor, ready in 80 days, vining type plant, good for traditional gardens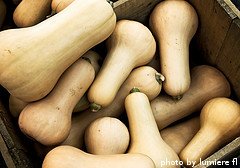 Waltham Butternut - this is probably the most common variety of butternut squash, heirloom variety, shorter plants that produce 2-3 pound squash, pale yellow to tan skin, sweet orange flesh is tender and not stringy, ready in 85 days, stores very well, good for traditional gardens
Burpee's Butterbush - this variety is ready in 75 days, compact plants good for container or traditional gardens, squash are 1-2 pounds, pale orange skin with deep orange flesh, sweet flavor and buttery texture
Autumn Glow - this butternut squash variety produces stocky fruit averaging 8 inches long with a golden yellow skin, the flesh is tender and slightly sweet and nutty, ready in 80 days, compact plant is good for both container and traditional gardens



Argonaut Hybrid - this variety produces very large fruits often weighing more than 20 pounds, ready in 140 days, large vining plants reserved only for traditional vegetable gardens usually in warm climates with long growing season, need lots of space, fruit is bright orange with classic butternut shape, stores very well for several months, orange flesh is tender and meaty, squash are very sweet and nutty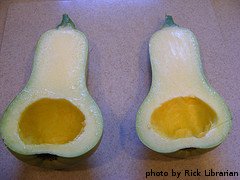 Click here to learn about planting butternut squash

Click here for information about watering and fertilizing butternut squash plants

Click here for help diagnosing and curing common butternut squash plant problems

Click here to learn about harvesting butternut squash

Click here for some of our favorite butternut squash recipes

Click here to move from our Butternut Squash Varieties page to our Growing Butternut Squash main page

Click here to return to our Home page