Harvesting Butternut Squash

When it comes to harvesting butternut squash, the best way to tell if the squash are ready to be picked is by their appearance. If you pick them to early, the texture will be too firm and the sugars will not be developed. If you wait too long to harvest, the squash will be too mushy.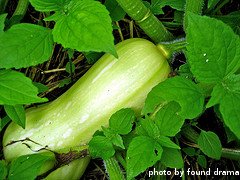 When butternut squash first appear on the vine, they will have green vertical lines on them. As the squash matures, the lines begin to fade and the rind turns to a pale orange or brown color, depending on the variety.
Most butternut squash matures when it is 8-12 inches long. However, the length can vary depending on the growing conditions and variety. Nutrient rich soil will produce larger squash. Watch the squash carefully every day or so and monitor their lengths. When the squash stop growing, they are almost ready to be picked.


Another good way to tell if it's time for harvesting butternut squash is the appearance of the stem. When the squash is mature, the stem end will turn from green to brown. It will appear that the stem is beginning to dry out. When this happens, the plant slowly stops transferring nutrients into the squash. This is an indication that your butternut squash is ready to be picked.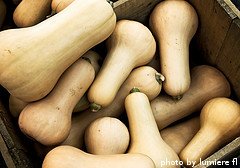 Finally, test the toughness of the rinds with your fingernail. If they resist being punctured, the squash are ready to be picked.
To harvest butternut squash, use shears to cut the squash from the vine, leaving about an inch of stem attached. Wipe the dirt off the squash with a damp cloth. The squash can then be stored for up to 2-3 months in a cool, dark place such as a basement, crawl space or root cellar. They will also last for up to 14 days at room temperature on a kitchen table or counter.
You can also peel the squash, dice them and boil them until soft. The pieces can then be pureed or mashed and frozen in an airtight container for up to 6 months. Or, you can use the squash to make a soup, which can also be frozen for later use.
After the growing season is over, you can pull the plants from the ground and add them to your compost pile.
Now that you know about harvesting butternut squash, it's time for a few of our favorite recipes....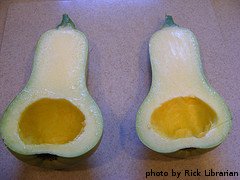 Click here for some of our favorite butternut squash recipes

Click here to move from our Harvesting Butternut Squash page to our Growing Butternut Squash main page

Click here to return to our Home page