Cucumber Varieties - What's the Difference?

There are several cucumber varieties available to the backyard vegetable gardener. Some are tried and true standards, others are more exotic. Cucumbers can be divided into 4 categories:
Slicing
Pickling
Burpless
Specialty
Here is a partial list of some of the more common varieties from each category, along with fruit descriptions and use recommendations.


SLICING CUCUMBERS - just as the name suggests, good by themselves, in salads or in most cucumber recipes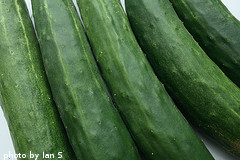 Bush Champion - bright green fruit 9-12 inches long, compact plant good for containers, long production season
Bush Crop - crisp and tender medium green fruit reach 6-9 inches long, bushy hybrid plant, high production
Dasher II - produces slender, dark green fruit 8-9 inches long, known for crisp texture and good flavor, disease resistant hybrid variety
Fanfare - early producer of smooth green fruit 8-10 inches long, compact plant, long harvest season, disease resistant
Marketmore - this cucumber variety produces 8-9 inch, slender, dark green fruit with a white spine, disease resistant
Pot Luck - good for containers, dark green fruit 7-8 inches long with white spines, very productive
Salad Bush - compact hybrid plant good for containers, very disease resistant, this variety produces smooth, dark green fruits around 8 inches long
Slice Master - hybrid variety, 8-9 inch dark green fruit, early producer, disease reistant
Spacemaster - smooth, dark green fruit 7-9 inches long, compact plant
Straight Eight - great taste, deep green fruit 6-10 inches long, small seed cavity, prolific producer, heirloom variety
Sweet Success - very disease resistant, crisp, sweet flavor, thin skinned green fruits reach 12-15 inches long, best when grown vertically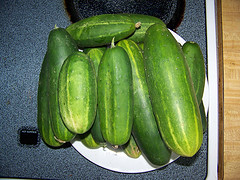 PICKLING CUCUMBERS - best varieties for pickling because they are mild tasting and very firm and crisp
County Fair - early producer hybrid, nearly seedless, 3 inches long, very vigorous cucumber variety, disease resistant
National Pickling - dark green fat fruit that reaches 5-7 inches long with black spines, prolific producer over long season
Pickle Bush - very crisp, tasty, dark green fruit reaching 5 inches long, classic whole pickle shape, very productive hybrid, good for containers
Regal - disease resistant, long slim fruit reaching 7 inches, this variety produces high yields over a long season
Saladin - can be pickled or eaten fresh, curved green fruit reaches 5 inches, small seeds, good all-purpose hybrid variety



BURPLESS CUCUMBERS - easiest varieties to digest and very mild taste, rarely get bitter
Burpless Hybrid - disease resistant, crisp and mild flesh can be pickled or sliced, straight bright green fruit reach 12 inches long, high production
Orient Express - very crisp and crunchy with tender skin, this hybrid cucumber variety produces slim, dark green fruits reaching 15 inches long
Sweet Slice - disease resistant, very sweet and crisp, tender skinned fruit 10-12 inches long that cylindrical in shape
SPECIALTY CUCUMBERS - these varieties are unique in shape, color and taste, a unique addition to any garden
Cucumber Lemon - this cucumber variety produces a round, light yellow fruit that is very tender and sweet, good for slicing or pickling
Suyo Long - Asian variety that produces large fruit reaching 16-18 inches, long, vigorous vines
Japanese Cucumber - this heirloom variety reaches 18 inches long, deep green color, small seeds
Armenian - very unusual variety is best grown vertically, produces greenish-yellow fruit reaching 36 inches long, also known as snake melons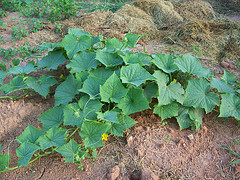 Click here to learn about planting cucumbers

Click here to learn about fertilizing and watering cucumbers

Click here for help with cucumber plant problems

Click here for information about harvesting cucumbers

Click here for some of our favorite cucumber recipes

Click here to move from our Cucumber Varieties page to the Growing Cucumbers main page

Click here to go to our Home page