Cucumber Recipes for the Backyard Vegetable Gardener
Most folks aren't aware of the variety of cucumber recipes available. Instead, images of pickles or sliced cucumbers in a salad come to mind. Surprisingly, there are several recipes that feature raw and cooked cucumbers. Before we get to some of our favorite recipes, here is some cucumber nutrient information.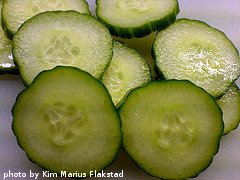 1/2 cup of raw sliced cucumber with the skin left on contains:
8 calories
1 mg Sodium
1.5 mg Vitamin C
7 mg Magnesium
76 g Potassium
8 g Calcium
Here are some of our favorite cucumber recipes:



Cucumber and Sour Cream Salad - this cucumber recipe makes a cool, refreshing summertime favorite
3 medium slicing cucumbers, peeled
1 teaspoon salt
1/2 cup green onion, finely chopped
1 tablespoon white vinegar
1/4 teaspoon ground black pepper
1/4 teaspoon paprika
1 teaspoon hot sauce
1/2 teaspoon lemon juice
1/4 cup sour cream

Slice the cucumbers very thin. Place them in a colander or strainer over a bowl. Sprinkle with the salt and toss. Let stand for 15-30 minutes. The cucumbers will release much of their liquid.
Transfer cucumbers to a serving bowl and add green onion, vinegar, pepper, paprika, hot sauce, lemon juice and sour cream. Stir to combine. Cover and refrigerate for at least 2 hours. Stir again just before serving.



Classic Refrigerator Dill Pickles - easy to make without all the fuss of canning in a hot-water bath, pickles stay very crisp
6 cups pickling cucumbers, cut into slices or spears
4 cloves garlic, peeled and left whole
1/2 teaspoon celery seed
4 teaspoons dried dill
4 teaspoons mustard seed, crushed
2 cups water
2 cups white distilled vinegar
4 tablespoons salt
4 teaspoons white sugar

Wash and dry 2 quart sized jars and lids.
Pack 3 cups of cucumbers and 2 cloves of garlic in each jar. Add 1/4 teaspoon celery seed, 2 teaspoons dill and 2 teaspoons mustard seed to each jar.
In a large bowl or blender, mix together water, vinegar, salt and sugar until dissolved. Pour liquid into each jar, filling to the neck. Tighten the lids and place in refrigerator. Turn jars upside down every other day. Pickles will be ready to eat in 2 weeks. Will keep in refrigerator for several months.



Cucumber and Pea Salad - a cucumber recipe that makes a great party or potluck dish
1 medium slicing cucumber, peeled
1 cup frozen peas, thawed
3 oz Monterrey Jack cheese, shredded
3 oz cheddar cheese, shredded
1/2 cup mayonnaise
1 tablespoon milk
1/2 teaspoon salt
1/4 teaspoon ground black pepper
1/2 teaspoon white sugar

Cut cucumber in half lengthwise. Remove seeds and and slice thinly.
In a large serving bowl, add cucumber slices, peas, Monterrey Jack cheese and cheddar cheese.
In a separate bowl, whisk together mayonnaise, milk, salt, black pepper and sugar. Pour dressing over the cucumber mixture and toss to coat. Refrigerate at least 2 hours. Stir before serving.



Cold Cucumber Soup - this cucumber recipe makes a tasty soup that gets any meal off to a great start
3 medium slicing cucumbers, peeled
1 tablespoon salt
1 garlic clove, minced
3 cups chicken broth
2 cups sour cream
1 cup whipping cream
3 tablespoons cider vinegar
1/4 teaspoon ground black pepper
sliced almonds, toasted
red onions, finely diced
fresh parsley, minced

Slice cucumbers in half lengthwise and remove seeds. Chop into small pieces and place in a colander or strainer over a bowl. Sprinkle with salt and toss. Let sit 15-20 minutes. Much of the liquid will be released.
Place 1/3 of the cucumbers and 1/3 of the minced garlic in a blender or food processor. Add in 1 cup of chicken stock and puree. Transfer to a large bowl. Repeat process until all cucumbers, garlic and chicken stock have been pureed together.
To the cucumber puree, stir in sour cream, whipping cream, vinegar and black pepper. Whisk together until well blended. Cover and refrigerate at least 4 hours. Whisk again before serving. Garnish with almonds, onions and parsley.



Gazpacho - this cucumber recipe makes a classic Mediterranean-inspired soup with bright flavors
1 white onion, finely diced
1 bell pepper, finely diced
1 cucumber, peeled, seeded and finely diced
2 cups chopped tomatoes
2 green onions, finely chopped
1 clove garlic, minced
3 tablespoon lemon juice
2 tablespoons red wine vinegar
1 teaspoon dried cilantro
1 teaspoon dried basil
1/4 cup fresh parsley, chopped
1 teaspoon white sugar
1/2 teaspoon salt
1/4 teaspoon ground black pepper

In a food processor or blender, combine all ingredients. Blend until well combined but still slightly chunky. Refrigerate at least 3 hours so that flavors combine. Serve with crusty bread, tortilla chips, crackers, etc...



Cucumber and Shrimp Appetizers - a unique cucumber recipe with a burst of flavor and texture, a party favorite
1 large slicing cucumber
8 oz cream cheese, softened
1/2 teaspoon salt
1/4 teaspoon ground black pepper
1 clove garlic, minced
3 slices roasted red bell pepper
1/2 teaspoon lemon juice
1/2 pound medium shrimp, cooked, peeled and deveined
4 oz cocktail sauce

Cut cucumbers into 1/4 inch slices, leaving the peel on.
In a mixing bowl, stir together cream cheese, salt, black pepper, garlic, roasted red bell pepper and lemon juice until well combined.
Spread each cucumber slice with cream cheese mixture. Place 1 shrimp on top of each cucumber slice. Top each shrimp with a dab of cocktail sauce. Refrigerate until just before serving.


Click here to move from our Cucumber Recipes page to the Growing Cucumbers main page

Click here to go to our Home page