Cantaloupe Recipes for the Backyard Vegetable Gardener
Many folks are surprised to learn there are lots of different cantaloupe recipes and lots of different ways to enjoy your melons. They aren't just for fruit salad. Cantaloupe can be made into soups, smoothies, drinks and combined with other flavors, both savory and sweet. Before we get to some of our favorite recipes that feature cantaloupe, here is some nutrient information...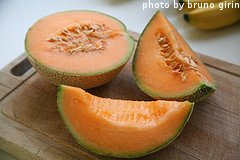 One cup of cubed cantaloupe contains:
54 calories
14 g carbs
1 g protein
59 mg vitamin C
4 mcg vitamin K
34 mcg Folate
14 mg Calcium
19 mg Phosphorus
427 mg Potassium
26 mg Sodium
Here are some of our favorite cantaloupe recipes:



Cantaloupe and Banana Fizz - this cantaloupe recipe makes a cool and refreshing drink, a great way to get kids to eat their fruit
1 cantaloupe, peeled, seeded and cubed
1 cup lemon-lime soda
2 cups ice cubes
1 banana, peeled and sliced
4 tablespoons white sugar

Add cantaloupe pieces, soda and ice to a blender. Blend until ice is mostly broken up. Add banana and sugar and puree mixture until smooth. Add more soda as needed if mixture is too thick. Serve immediately.
This can easily be made into an adult beverage by adding vodka, rum or the spirit of your choice



Chilled Cantaloupe Mint Soup - this cantaloupe recipe makes a delicious appetizer, sweet and bright flavors are a perfect way to start any meal
1 cantaloupe, peeled, seeded and cubed
1 cup orange juice
1/4 cup fresh mint leaves, roughly chopped
1 tablespoon fresh lime juice
1/2 teaspoon lime zest
1/2 teaspoon ground cinnamon
1/2 teaspoon salt

Add cubed cantaloupe and orange juice to a blender or food processor. Blend until smooth. Add mint leaves, lime juice, lime zest, cinnamon and salt and blend again. Transfer mixture to a large bowl. Cover and refrigerate at least 4 hours or overnight. Serve chilled and garnish with a sprig of mint.



Prosciutto Wrapped Melon - this cantaloupe recipe makes a Sicilian classic, perfect as an appetizer, sweet and salty flavors compliment each other, a big hit at cocktail parties or potlucks
1 cantaloupe, peeled, seeded and cut into bite-sized cubes
Thin slices of prosciutto
Balsamic vinegar

Cut prosciutto into strips about as wide as the cantaloupe cubes. Wrap a strip of prosciutto around a piece of cantaloupe and secure it with a toothpick. Add one drop of balsamic vinegar on top of each piece of melon. Serve immediately.



Crunchy Cantaloupe Bake - this cantaloupe recipe makes a simple dessert, very unique and delicious flavor combinations, a great way to use melons that are almost over-ripe, guests will have no idea the cantaloupes are even an ingredient in this rare treat
3 cups cubed cantaloupe
1/3 cup lemon juice
1/2 cup white sugar
1 tablespoon all-purpose flour
2 tablespoons butter, melted
1/2 teaspoon balsamic vinegar
1/2 teaspoon ground cinnamon
1/2 teaspoon ground nutmeg
1 teaspoon vanilla extract
1 (18.5 oz) package white cake mix
1/4 cup butter, melted

Preheat oven to 350 degrees F.
To a bowl, add cantaloupe, lemon juice, sugar, flour, 2 tablespoons melted butter, balsamic vinegar, cinnamon, nutmeg, and vanilla extract. Mix together until well combined.
Pile mixture into a greased 9 inch square baking dish. Spread dry cake mix even over the top of the cantaloupe mixture. Drizzle 1/4 cup melted butter over the top of the cake mix. Bake in preheated oven for about 45 minutes, or until the top is nicely browned. May be served warm or cold.



Creamy Cantaloupe Dreamsicles - this cantaloupe recipes makes delicious and creamy popsicles, a great way to get kids to eat their fruit, a great treat on a hot summer day
1 package instant vanilla pudding
1 1/2 cups milk
1/2 cup heavy cream
1 cup whipped topping
3/4 cup shredded cantaloupe

Whisk together instant pudding, milk and cream in a bowl. Whisk until smooth. Add whipped topping and whisk again until smooth, working quickly before the pudding has time to set. Stir in shredded cantaloupe and pour immediately into popsicle molds. Freeze for at least 6 hours, or until firm.



Cantaloupe Pie - this cantaloupe recipe makes a cool and creamy dessert, only slightly sweet and very refreshing, this no bake pie is simple to make
1 (0.3 oz) package sugar-free peach flavored gelatin mix
2 cups graham cracker crumbs
2 tablespoons white sugar
1 teaspoon cinnamon
4 tablespoons melted butter
1 (8 oz) package cream cheese, softened
4 tablespoons powdered sugar
2 (8 oz) containers whipped topping
2 cups diced cantaloupe

Prepare gelatin according to the directions on the package. Let set up in refrigerator.
Preheat oven to 350 degrees F.
In a small bowl, mix together graham cracker crumbs, white sugar, cinnamon and melted butter. Press into the bottom and sides of a glass pie dish. Blind bake crust in preheated oven for 15 minutes. Remove from oven and let cool.
In a mixing bowl, whip cream cheese until fluffy. Mix in powdered sugar and then beat in 1 container of whipped topping. Spread this mixture onto the bottom of the cooled graham cracker crust.
Stir cantaloupe into the cooled gelatin and then pour mixture over the cream cheese layer. Evenly spread remaining container of whipped topping over the cantaloupe and gelatin mixture. Chill pie for several hours before serving.



Click here to move from our Cantaloupe Recipes page to our Growing Cantaloupe main page

Click here to go to our Home page