Growing Cantaloupe

You should strongly consider growing cantaloupe if you have enough space in your garden and you love fresh fruit. Fresh melons from you garden taste much better than those found in the grocery store. Cantaloupe are simple to plant, easy to care for and even simpler to harvest. Fresh picked melons also last for several days in the refrigerator.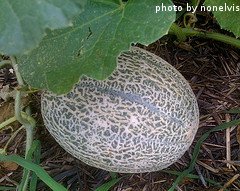 Cantaloupe plants are vines that can get rather long, so they are generally reserved for traditional vegetable gardens and are not suitable for growing in containers. In recent years, some bush varieties of cantaloupe have been developed for those with limited space. However, these bush varieties still get too large to be grown in average-sized containers.
Cantaloupe need at least 6-8 hours of sunlight per day to thrive - the more the better. They also need lots of room to spread out and should be planted at least 6 feet away from other plants in your garden. Cantaloupe are summer fruit and do well in hot, humid environments. They should be planted after the soil has warmed up in the spring.  The seeds typically germinate best when soil temperatures are in the 75-85 degree F range.  The melons are usually ready for harvest in mid to late summer.
Cantaloupe do best when the seeds are sown directly in the garden rather than transplanting seedlings. However, if you have a short growing season, it is possible to start the seeds in biodegradable pots and then transplant them when it gets warm enough.  They require loose soil that drains well and is rich in nutrients. Most cantaloupe plants will produce 4-8 fruit each. The fruit is ready for harvest 70-100 days after germination, depending on the variety.

Most varieties of cantaloupe produce fruit weighing 2-6 pounds. The world record cantaloupe was grown in Alaska and weighed almost 65 pounds.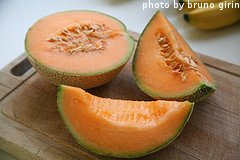 Cantaloupe are packed with vitamins and are very nutritious. They can be used in a wide variety of recipes including juices, salads and can even be boiled, sauteed, grilled and even made into soup.
Give your Health a Flavor with Smoothie Recipes courtesy of www.smoothies-and-health.com



Click on the following links to learn more about growing cantaloupe.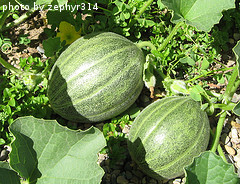 Click here for information about planting cantaloupe 

Click here to learn about watering and fertilizing cantaloupe

Click here to learn about harvesting cantaloupe

Click here for information about different cantaloupe varieties

Click here for some of our favorite cantaloupe recipes

Click here to learn about saving cantaloupe seeds
Click here to move from our Growing Cantaloupe page to our Home page