Beet Recipes For The Backyard Vegetable Gardener

We enjoy a wide variety of beet recipes and we're always on the lookout for new ways to use beets.  Beet tops can be eaten raw or sauteed, steamed or braised.  Beet roots can be pickled, eaten raw, roasted, sauteed, boiled and steamed.  Before we share some of our favorite recipes for beets, here is some nutritional information...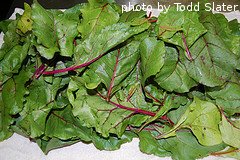 1 cup of fresh beet greens contains:
8 calories
86mg sodium
2g carbs
152mcg vitamin K
290mg potassium
27mg magnesium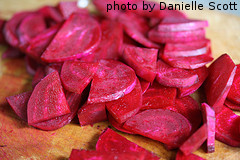 1 cup of raw beet root contains:
58 calories
13g carbs
106mg sodium
148mcg folate
442mg potassium
148mcg folate
7mg vitamin C
Here are some of our favorite beet recipes.  We divided them up into two categories, beet tops and beet roots:

Beet Tops
Sauteed Beet Greens - this makes a great side dish for any meal, light and flavorful
2 tablespoons olive oil
1/2 onion, finely chopped
4 cloves garlic, minced
4 cups beet tops, washed, stems removed and roughly chopped
1 teaspoon red wine vinegar
salt and pepper to taste
Add olive oil to saute pan and put over medium heat.  Add onions and cook until translucent - about 4 minutes.  Add garlic and saute another minute.  Add beet tops and vinegar and stir until green are wilted slightly.  Tranfer quickly to serving dish and add salt and pepper.  Toss again and serve immediately.

Beet Green Salad - this beet recipe makes a light salad that's full of flavor, a great start to any meal
1/4 cup olive oil
2 tablespoons balsamic vinegar
1 teaspoon dijon mustard
1 teaspoon honey
6 cups beet greens, washed, stems removed and roughly chopped
In a small bowl, mix together olive oil, balsamic vinegar, mustard and honey.  Whisk until blended.  Pour over beet greens and toss well to coat. 

Creamed Beet Greens - This take on creamed spinach makes a great addition to any steak, a real treat
2 tablespoons olive oil
8 cups beet tops, washed with stems removed
2 tablespoons butter
4 garlic cloves, minced
3/4 cup heavy cream
1 pinch salt
1 pinch black pepper
1 pinch cayenne pepper
1 pinch grated nutmeg
1 pinch paprika
1 tablespoon lemon juice
3 tablespoons finely grate Parmesan cheese
Add olive oil to a large pot and put over medium-high heat. Add beet greens and cover.  Cook for 1-2 minutes until greens are wilted.  Drain spinach and transfer to a large plate lined with several layers of paper towels.  Let cool for a few minutes and then squeeze out as much liquid from greens as possible.
Melt butter in large skillet over medium heat.  Add garlic and stir and cook for 1 minute.  Add in cream, salt, black pepper, cayenne pepper, nutmeg, paprika and lemon juice.  Stir often and cook to reduce cream sauce by almost half, about 6-8 minutes.  Remove from heat and add beet greens to skillet. Stir spinach into cream sauce for about 2 minutes, until well coated and heated through. Stir in cheese and serve immediately.

Beet Roots
Pickled Beets - this beet recipe is a great way to preserve your beets
5 pounds beets, stems and roots remove, cut to desired size
1 cup white sugar
1/2 tablespoon pickling salt
1 pint 5% white vinegar
Place beets in a large stockpot and add water until beets are barely covered.  Bring to boil and cook 8-10 minutes, until almost tender but still somewhat firm.  Drain beets and reserve 1 cup of the beet water.  Let beets cool and then peel by rubbing them with your hands.
Sterilize 5 pint jars and lids by boiling them.  Fill each jar with beets, leaving 1 inch of space up top.
In a large saucepan, add beet water, sugar, salt and vinegar. Bring to a boil and stir so that everything is dissolved.  Pour the hot liquid over the beets in the jars and seal the lids with rings.
Place jars in a waterbath canner and process for 10 minutes in boiling water.  Remove jars from canner and let cool.  Check to see that all lids have sealed and store in pantry or root cellar. If any lids did not seal, you can process them again or just store them in the refrigerator.

Roasted Root Vegetable Medley - this beet recipes makes a great side dish for just about any meal, a winter-time favorite
4 large carrots
4 medium-sized beets
4 large red potatoes
2 tablespoons olive oil
sea salt and ground black pepper to taste
Preheat oven to 400 degrees F.
Peel carrots and beets and wash red potatoes.  Cut carrots, beets and potatoes into bite-sized pieces that are all roughly the same size.  Add to a bowl and drizzle olive oil over the top. Toss well and pile onto a baking sheet that's been lightly greased or sprayed with non-stick spray.  Spread out vegetable mixture into a single layer on the baking sheet.  Sprinkle salt and pepper over the vegetables.
Roast uncovered in oven for approximately 30 minutes or until vegetables are tender.  Serve immediately.

Sweet and Spicy Beets - this beet recipes makes a fantastic side dish with lots of fall flavors, unique and interesting
2 pounds beets, peeled and sliced
3 tablespoons brown sugar
1 tablespoon balsamic vinegar
1/4 cup beet water
1 tablespoon cornstarch
1/2 teaspoon ground cinnamon
1/2 teaspoon ground cayenne pepper
2 tablespoons butter
Place beets in a large saucepan and add water until covered. Bring to a boil and reduce heat and simmer for about 10 minutes, until beets are tender.  Drain beets in a strainer, reserving 1/4 cup of the cooking liquid.
In the same saucepan, whisk together brown sugar, balsamic vinegar, beet water, cornstarch, cinnamon and cayenne pepper. Add the beets and butter and cook over medium heat, stirring constantly.  Cook for 2 minutes until sauce thickens slightly. Serve immediately.
Click here to move from our Beet Recipes page to our Growing Beets main page