Want To Learn About Growing Beets?

One of the advantages of growing beets is that they provide two different food sources; you can eat both the tops and the roots. The tops can be eaten raw in salads or steamed, sauteed or braised.  The roots can be eaten raw, pickled, roasted, boiled or steamed.  In addition, red beet juice has been used for centuries as a dye.  There are also varieties of sugar beets, which can be made into syrup and even sugar.  Beets are a great source of vitamin C, potassium, folate and dietary fiber.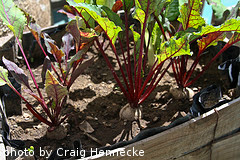 Beets are easy to grow and they don't take up much space in the garden.  They are a cool season crop that grow best when daytime high temps are 60-70 degrees F.  The seeds will germinate when soil temps are 55-75 degrees F.  In many areas, beets can be grown as both a spring and fall crop.  In milder climates, beets are often grown in the spring for their tops and in the fall for their roots.  Beet roots tend to get sweeter if they are left in the ground at least until after the first frost in the fall.  Beets require lots of sun and should be planted in well-tilled soil that drains well.  They are also suitable for container gardening.  They mature quickly, usually in 50-70 days, depending on the variety.  This makes beets a great choice for a kid's garden.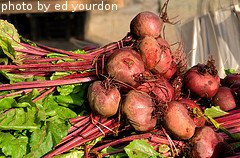 Since beets are root vegetables, it's important to work the soil deeply enough to allow the roots to reach their potential.  We like to use the hilling method when growing beets, and this works well to give the beets plenty of room.
There are several different beet varieties available to the backyard vegetable gardener.  Some folks grow beets just for the tops, others are looking for nice-sized roots.  We like to use both parts of the plant.  Beets come in lots of different sizes and shapes.  Some sugar beets can weigh 15 pounds or more.  There are several colors of beets that include red, purple, striped, white and golden yellow.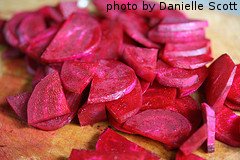 Click on the following links to learn more about growing beets...
Click here to learn about planting beets
Click here for information about fertilizing and watering beets
Click here to learn about harvesting beets
Click here for information about different beet varieties
Click here for some of our favorite beet recipes
Click here to move from our Growing Beets page to our Home page