Zucchini Recipes for the Backyard Vegetable Gardener
We grow lots of zucchini and are always hunting for different zucchini recipes. We've come across some that we absolutely love. Most of these recipes are very easy to prepare. Zucchini can be fried, steamed, sauteed, roasted, baked or eaten raw. Before we share some of our favorite recipes for zucchini, here is some nutrient information...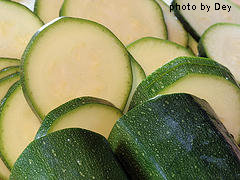 One cup of raw zucchini contains:
20 calories
4g carbs
21mg Vitamin C
19mg Calcium
325mg Potassium
12mg Sodium
Here are some of our favorite zucchini recipes:

Classic Stuffed Zucchini - this zucchini recipe makes a great entree
2 tablespoons olive oil
1/2 pound ground beef
1 cup cooked rice
1/2 medium bell pepper, finely diced
1/4 cup diced tomatoes
1 clove garlic, pressed
1/2 teaspoon salt
1/2 teaspoon ground black pepper
1 tablespoon dried oregano
4 tablespoon fresh parsley, chopped
2 tablespoon fine bread crumbs
2 tablespoons Parmesan cheese, grated

Preheat oven to 375 degrees F.
Wash zucchini, remove stems and cut in half lengthwise. Scoop out the seeds. Brush 1/2 tablespoon olive oil on flesh of each zucchini half and place skin side down in a baking dish.
In a large bowl, mix together raw ground beef, rice, bell pepper, tomatoes, garlic, salt, ground black pepper, oregano and parsley. Spoon into each zucchini half, distributing all of the stuffing mixture evenly.
In a small bowl, mix together bread crumbs and parmesan cheese. Sprinkle to top of eached stuffed zucchini half. Bake in oven for 30-40 minutes until meat is cooked and zucchini is tender. Serve immediately.

Double Breaded Southern Fried Zucchini - this zucchini recipe makes a great side dish or snack
1 large zucchini
2 large eggs
2 tablespoons hot sauce
2 tablespoons milk
2 cups all-purpose flour
1 teaspoon salt
1/2 teaspoon ground black pepper
1/4 teaspoon chili powder
1/2 teaspoon garlic powder
Oil for frying

Preheat at least an inch of oil to 350 degrees F in a cast iron skillet or fryer.
Slice zucchini 1/16 inch thick and dab with paper towels to remove as much moisture as possible.
In a shallow bowl, beat together 1 egg, 1 tablespoon hot sauce and 1 tablespoon milk.
In a zipper-type plastic bag, combine flour, salt, black pepper, chili powder and garlic powder. Dump sliced zucchini into the bag and shake to coat with flour. Remove zucchini slices from bag and place in bowl with egg mixture. Toss to coat all slices.
Transfer zucchini slices back into the bag and shake to coat with flour.
In the shallow bowl, beat together remaining egg, hot sauce and milk. Remove zucchini slices from bag and place back in bowl. Toss again to coat all slices with egg mixture.
Transfer zucchini slices back into the bag and shake again to coat with flour mixture.
Fry zucchini in batches for 3-4 minutes or until golden brown, turning once. Let drain on paper towels and sprinkle with table salt or seasoned salt. Serve immediately.

Zucchini Bread - this zucchini recipes makes a tasty quick-bread, freezes well for up to 6 months
3 eggs
1 cup vegetable oil
1 1/2 cups sugar
2 cups grated zucchini
2 cups flour
2 teaspoon baking soda
1 teaspoon baking powder
1 teaspoon salt
1 teaspoon ground cinnamon
1 teaspoon nutmeg
1/2 teaspoon allspice
1/4 teaspoon ground cloves
1 cup walnuts, roughly chopped

Preheat oven to 350 degrees F.
Melt the butter over low heat in a saucepan, set aside.
In a mixing bowl, beat eggs and oil together until thick. Beat in the sugar. Stir in the melted butter and zucchini and set aside.
In another large bowl, sift together flour, baking soda, baking powder, salt, cinnamon, nutmeg, allspice and cloves. Fold in the zucchini mixture. Then fold in the walnuts.
Pour mixture into a greased 9x5 inch loaf pan and bake in oven for 65 minutes, or until toothpick inserted in the middle comes out clean.
Let bread cool on a rack for 30 minutes before unmolding it from loaf pan.

Stuffed Zucchini Blossoms - a zucchini recipe that makes an elegant appetizer, easy to make and yet appears very sophisticated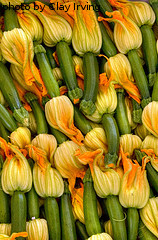 12 zucchini blossoms that have just started to open
1/2 cup ricotta cheese
1/2 tablespoon dried basil
1/2 tablespoon dried oregano
6 sun-dried tomato halves, roughly chopped
2 tablespoons parmesan cheese, grated
1/4 teaspoon salt
1/4 teaspoon ground black pepper
2 eggs, separated
1 cup all-purpose flour
1/2 teaspoon cayenne pepper
1 teaspoon garlic salt
Oil for frying

Preheat 1/2 inch oil to 350 degrees F in a cast iron skillet or deep frying pan.
In a medium bowl, combine ricotta, basil, oregano, sun-dried tomatoes, Parmesan cheese, salt and black pepper.
Gently wash the zucchini blossoms. Pat them dry with a paper towel and remove any stems inside the blossoms. Using your fingers, gently fill each blossom with 2 tablespoons of the ricotta cheese mixture. Twist the tops of the petals to close the blossoms after stuffing.
In a large bowl, use a hand mixer to beat the egg whites until they form soft peaks. Beat the egg yolks lightly and fold them into the egg whites.
In a shallow bowl, stir together flour, cayenne pepper and garlic salt.
Dip each stuffed zucchini blossom into the egg mixture. Then dip it into the flour mixture, making sure it is coated all over.
Fry the stuffed blossoms in small batches for 3 minutes on each side, or until golden brown. Drain on paper towels. Serve immediately.

Asian Beef and Zucchini with Noodles - an Asian-inspired zucchini recipe
1 pound sirloin steak
3 tablespoons brown sugar
1 tablespoon Worcestershire sauce
1 tablespoon rice wine vinegar
3 tablespoons soy sauce
1 teaspoon ground ginger
1 pound dried spaghetti pasta
2 tablespoons salt
2 tablespoons olive oil
1 tablespoon vegetable oil
1 tablespoon sesame oil
1 carrot, julienned
1 red bell pepper, julienned
1/2 white onion, thinly sliced
1 large zucchini, julienned
1 cup snow peas

Cut the steak in half and then slice thinly. Place in plastic zipper bag.
In a small bowl, whisk together brown sugar, Worcestershire sauce, rice wine vinegar, soy sauce and ginger. Pour this mixture into the bag with the steak. Let marinate on the counter.
Bring a large pot of water to boil. Add the pasta, salt and olive oil and boil until pasta is almost al dente, about 12 minutes. Drain and set aside.
In a large skillet, add vegetable oil and sesame oil. Heat pan until very hot but not smoking. Add in carrot, bell pepper and onion. Saute about 5 minutes. Add in zucchini, snow peas and sliced steak, reserving the marinade. When vegetables are heated through and steak is cooked, pour in marinade and cook 1 minute, stirring constantly. Add the cooked pasta to the skillet and combine well with vegetable mixture. Saute until the pasta absorbs most of the sauce that remains. Serve immediately.

Summer Squash Medley - this zucchini recipe make a side dish that goes great with almost any meal
2 tablespoons garlic oil
1 tablespoon vegetable oil
1 large zucchini squash, sliced
1 large yellow squash, sliced
1/2 teaspoon salt

In a large skillet, heat garlic oil and vegetable oil over medium-high heat. Add in zucchini and yellow squash and saute until just tender, about 5 minutes. Pile squash onto a serving plate and sprinkle with salt. Serve immediately.




Click here to move from our Zucchini Recipes page to our Growing Zucchini main page

Click here to go to our Home page