Sweet Potato Varieties - What's the Difference?

There are a few different sweet potato varieties available to the backyard vegetable gardener.  They vary slightly in size, color and texture.  Some have a more red flesh, while others feature more of an orange color.  Some store a little better than others.  Some varieties have a higher sugar content, while others feature a more nutty flavor. 
We are often asked about what sweet potato variety we like best.  Our favorite is the classic Beauregard, which is a large sweet potato with deep orange flesh.  It's good for baking, frying, pies and casseroles - very versatile.  This variety is probably one of the more popular varieties to grow for both backyard gardeners and commercial growers.
Here is a list of some more varieties of sweet potatoes, along with descriptions, plant information, etc:
Centennial - medium sized with orange flesh, good for baking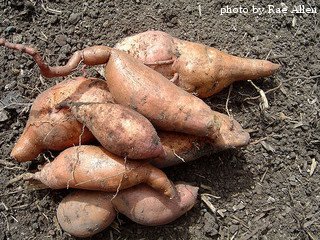 Georgia Jet - large producer of medium sized potatoes with bright orange flesh, good for baking, pies and casseroles
Vardaman - extra sweet with deep orange flesh, good for baking, frying, pies and casseroles
Murasaki - a Japanese variety with purple skin and white flesh, good disease resistance, ready in 100 days, nutty flavor
Bonita -  newer variety and extremely sweet, often contains twice the sugars of other sweet potato varieties, beige skin with white flesh,  matures in 95 days, looks like regular white potato when cooked, good for fries and sweet versions of au gratin
Jewel - features a copper skin and rich orange flesh, moderately sweet and nutty, popular commercial variety because it stores so well, good for baking or casseroles
Regal - excellent disease resistance, reddish-purple skin and deep orange flesh is sweet and tender, good choice for baking
O'Henry - a sweet potato variety with flavors of nuts and honey, golden flesh, less moisture content than other sweet potatoes, ready in 100 days, skin is beige, good choice for baking
There are other varieties of sweet potatoes that are available through online seed stores, catalogs, etc...  We encourage you to grow a couple of different varieties at first, to determine which is your favorite.

Click on the following links for information about growing your own sweet potatoes.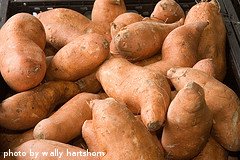 Click here to learn about planting sweet potatoes
Click here for information about watering and fertilizing sweet potatoes
Click here to learn about harvesting sweet potatoes
Click here for some of our favorite sweet potato recipes
Click here to move from our Sweet Potato Varieties page to our Growing Sweet Potatoes main page
Click here to go to our Home page