Spinach Varieties - What's The Difference?

There are several different spinach varieties available to the backyard vegetable gardener.  Most are similar in that they all feature green leaves.  However, the leaves can be different in shape and texture.  In addition, different varieties mature at different times.  A fast-growing type is usually better for spring gardens, while a slower growing variety is usually better suited for fall.  We encourage you to try a couple of different varieties until you find one that you like the best.
Here's a partial list of the more common spinach varieties, along with a little bit of information about each one.  Please note, the days to harvest are counted after the seeds have germinated.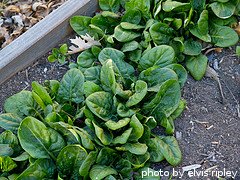 Bloomsdale Long Standing - this is an heirloom variety that features dark green leaves that are curled at the end and slightly crinkled, slow to bolt, ready in 48 days, prolific producer
Anna - ready in 50 days, good for both baby spinach and full-sized leaves, oval shaped leaves are a medium green color, good choice for freezing
Tyee - this is a hybrid variety that features good disease resistance, ready in just 37 days, grows more upright than other varieties, deep green leaves are tapered and thick, holds well without losing flavor
Crocodile - this hybrid variety shows great heat tolerance, ready in just 4 weeks for baby spinach or 55 days for full-sized leaves, plants reach just 6 inches tall, leaves are bright green and oval shaped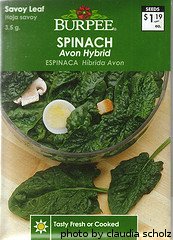 Avon - this hyrid variety features dark green crinkled leaves that are tapered, ready in 44 days, leaves are large and tender, good choice for freezing
Renegade - good consistent yields of succulent leaves that are dark green, stems are especially tender making this a good choice for salad spinach, ready in 42 days for full-sized leaves or 30 days for baby leaves, good disease resistance
Palco - ready in 38 days for baby leaves, 48 days for larger one, features smooth leaves that are medium green, good choice for warmer climates as it is slower to bolt, good disease resistance
Giant 157 - this hybrid variety produces some of the largest spinach leaves around which makes them easy to clean, ready in 50 days, leaves are tapered, good choice for freezing
Space - this hybrid spinach variety features dark green leaves, ready in 50 days, slow to bolt with extended harvest time, plants grow more upright than other varieties, leaves taper to a soft point
Regiment - this hybrid variety features thick and dark green leaves in the shape of an arrowhead, ready in just 37 days for baby spinach, a good variety for both spring and fall gardens, moderate disease resistance
Click here to learn about planting spinach
Click here to learn about watering and fertilizing spinach
Click here for information about harvesting spinach
Click here for some of our favorite spinach recipes
Click here to move from our Spinach Varieties page to our Growing Spinach main page
Click here to go to our Home page