Onion Recipes for the Backyard Vegetable Gardener
We like lots of different onion recipes. Nothing beats a slice of red onion in a salad. We also love caramelized onions on a wide variety of warm sandwiches and burgers. And who doesn't like sweet and crunchy homemade onion rings? Before we share some of our favorite onion recipes, here is some nutritional information...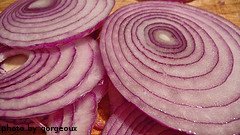 One large onion contains:
60 calories
14 g carbs
11 mg Vitamin C
29 mcg Folate
35 mg Calcium
15 mg Magnesium
44 mg Phosphorous
219 mg Potassium
6 mg Sodium
Here are some of our favorite onion recipes:



Spicy Beer Battered Onion Rings - this onion recipe makes a fantastic onion ring, crunchy on the outside and tender on the inside with just enough kick to keep you coming back for more!
3 cups milk
4 tablespoons hot sauce
4 onions, peeled and sliced into 1/4 inch thick rings
Peanut oil for frying
2 cups all purpose flour
1 cup beer
1 teaspoon salt
1 teaspoon ground black pepper
1 teaspoon garlic powder
1/2 teaspoon cayenne pepper

Place milk and hot sauce into a large, airtight bag. Add onion rings and seal bag. Let sit in refrigerator for at least 2 hours before frying onion rings.
Preheat 2 inches of oil in a deep skillet to 360 degrees F.
Place 1 cup of flour into a separate air tight bag. Remove onion rings from the milk and hot sauce mixture, shaking off the excess moisture. Place rings into the bag with flour. Seal bag and shake until the onions are coated with flour.
In a large bowl, add remaining 1 cup of flour, beer, salt, black pepper, garlic powder and cayenne pepper. Mix gently just until all ingredients come together.
Dredge the floured onion rings in the batter, coating evenly. Fry in hot oil until golden brown. Drain on paper towels and sprinkle with salt if desired. Serve immediately.



Rich and Easy French Onion Soup - this onion recipe makes a rich and delicious soup sure to please just about anyone, makes a great appetizer
1/2 cup unsalted butter
2 tablespoons olive oil
1 clove garlic, minced
4 (10.5 oz) cans beef broth
2 tablespoons dry red wine
1 teaspoon dried thyme
1/2 teaspoon salt
1/4 teaspoon ground black pepper
French bread, sliced and toasted
Provolone cheese, sliced
Parmesan cheese, grated

Peel onions and cut in half from top to bottom. Cut slices 1/8 inch thick, making half rings. Separate the onion layers.
In a large stock pot, melt together butter and olive oil over medium high heat. Add onions and garlic and stir about 2 minutes. Reduce heat to medium low and stir another 3 minutes. Cover the pot and let cook for 30-40 minutes, until onions begin to caramelize, stirring occasionally. Add beef broth, red wine, thyme, salt and pepper. Stir and bring to a simmer. Let soup simmer uncovered for 30 minutes.
Turn on the oven broiler. Ladle the soup into oven-safe bowls and place the bowls on a baking sheet. Top each piece of toasted bread with provolone cheese and add a tablespoon of grated Parmesan cheese on top of the provolone. Carefully place a single slice of cheesy bread on top of the soup in each bowl.
Place bowls under the broiler until the cheese melts and begins to brown slightly. Remove from oven and serve immediately.



Tangy Roasted Mushrooms and Onions - this onion recipe makes a great topping for burgers, steak, chicken, etc...
2 yellow onions, peeled and sliced
1 pint fresh mushrooms, washed and sliced
1 tablespoon butter, diced
Pinch of salt
3 tablespoons steak sauce
1/2 teaspoon balsamic vinegar

Preheat oven to 325 degrees F.
Pile sliced onions and mushrooms on a large sheet of tin foil. Top with butter pieces. Spinkle with salt and drizzle on steak sauce and balsamic vinegar. Wrap the foil to make a pouch. Make sure the pouch is sealed. Place in oven for 40 minutes. Remove pouch and slice open with a knife to let the steam escape. Serve immediately on burgers, steak, chicken, etc...
***This recipe can also be cooked on the grill. Just start cooking it 20-30 minutes before adding steak, burgers, chicken, etc... to the grill***



Warm 'N' Cheesy Sweet Onion Dip - this onion recipe makes a dip that's perfect for cocktail parties or tailgating
1 tablespoon unsalted butter
2 cups thinly sliced sweet yellow onions
3/4 cup mayonnaise
1/4 cup sour cream
1 1/2 cup Swiss cheese, shredded
1/2 cup pepper jack cheese, shredded
1/2 cup parmesan cheese, grated
2 tablespoons hot sauce
Crackers or chips for dipping

Preheat oven to 350 degrees F.
Melt butter in a skillet over medium high heat. Add onions and cook for 5 minutes, stirring constantly.
Pour onion mixture into a baking dish. Add mayonnaise, sour cream, Swiss cheese, pepper jack cheese, Parmesan cheese and hot sauce. Toss to combine.
Place in preheated oven and bake about 30 minutes or until the edges start to brown. Remove from oven and let cool 15 minutes before serving.



Green Onion and Cheddar Biscuits - this onion recipe makes savory, buttery and flaky biscuit, perfect for any meal
2 cups biscuit baking mix
1 cup shredded Cheddar cheese
1 tablespoon grated Parmesan cheese
1/2 teaspoon garlic powder
1/4 cup chopped green onions
2/3 cup milk
2 tablespoon butter, melted
2 teaspoons dried parsley

Preheat oven to 400 degrees F.
In a large bowl, combine biscuit baking mix, Cheddar cheese, Parmesan cheese, garlic powder and green onions. Slowly stir in milk until all ingredients are just moist.
Drop dough by heaping tablespoons onto a greased baking sheet. Bake in preheated oven for 10 minutes. Remove from oven and brush biscuits with melted butter. Sprinkle parsley on top of each biscuit. Return biscuits to oven and bake an additional 5 minutes. Remove from oven and let cool for 5 minutes. Serve warm.



Click here to move from our Onion Recipes page to our Growing Onions main page

Click here to go to our Home page