Okra Recipes for the Backyard Vegetable Gardener
People in the south have been using the same okra recipes for generations. Okra can be boiled, roasted, grilled, sauteed, stewed, pickled and fried. It is also commonly used in soups, stews and gumbos. Okra also tastes great raw - it has plenty of crunch! We love several different recipes that feature okra. Before we share some of our favorites, here is some nutrient information.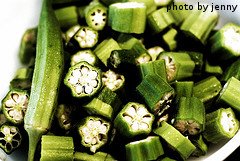 1/2 cup sliced okra contains:
18 calories
4 g carbs
13 mg vitamin C
32 mcg vitamin K
37 mcg folate
62 mg calcium
29 mg magnesium
108 mg potassium
5 mg sodium
Here are some of our favorite okra recipes:

Southern Fried Okra - this traditional okra recipe has been made for generations, crispy and salty, a great snack or side dish
12 okra pods, cut into 1/4" pieces
1 egg, beaten
3 tablespoons milk
1/2 cup cornmeal
1/2 cup all-purpose flour
1/2 teaspoon salt
1/2 teaspoon ground black pepper
1/2 teaspoon garlic powder
1/4 teaspoon cayenne pepper
1/2 cup vegetable oil
salt to taste

Place egg and milk into a bowl and whisk to combine. Add okra and let soak about 10 minutes.
Meanwhile, in a medium bowl, combine cornmeal, flour, salt, black pepper, garlic powder and cayenne pepper.
Heat oil in a large skillet over medium-high heat.
Remove okra pieces from the egg mixture and dredge in cornmeal mixture until coated evenly. Place okra in hot oil and let fry for 1 minute. Reduce heat to medium and begin gently moving okra around the skillet so it doesn't burn. Fry until golden brown on all sides. Remove from skillet to paper towels. Sprinkle with salt as desired and let drain. Serve hot, shortly thereafter.

Oven Roasted Okra - this okra recipe is easy to make and oh so good, makes a great side dish to accompany any meal
20 fresh okra pods, cut into 1/2" pieces
2 tablespoon olive oil
2 teaspoon salt
2 teaspoon ground black pepper
1/2 teaspoon garlic powder

Preheat oven to 400 degrees F.
Place okra in a bowl. Drizzle with olive oil and toss to coat. Pile onto a baking sheet and sprinkle with salt, pepper and garlic powder.
Bake in preheated oven for 12-15 minutes, or until just tender. Serve immediately.

Chicken and Sausage Gumbo - this okra recipe makes a traditional style Louisiana gumbo complete with Andouille sausage, a dark and rich roux, plenty of fresh vegetables and lots of spice, a real family favorite
1 whole chicken (about 3 pounds)
3 tablespoons salt
1/2 cup butter
1/2 cup all-purpose flour
1/4 cup butter
1 tablespoon salt
1 large yellow onion, diced
3 garlic cloves, minced
1 large bell pepper, diced
4 celery stalks, diced
1 carrot, diced
2 jalapeno peppers, seeded and diced
1 teaspoon cayenne pepper
1 teaspoon Old Bay seasoning
1/2 teaspoon paprika
1/2 teaspoon chili powder
1 teaspoon dried thyme
1 teaspoon dried oregano
2 large tomatoes, diced
1 pound Andouille sausage, sliced
18 okra pods, chopped

Place the chicken in a large pot and cover with water and sprinkle with salt. Bring to a simmer on the stove and let cook for about an hour. When chicken is fully cooked, remove it from the broth and let cool. Reserve the broth for later use. Pick the meat from the bones and set aside.
While chicken is cooking, make the roux. Melt the butter in a large pot over medium heat. Reduce heat to medium low. Whisk the flour into the butter and stir every few seconds to keep from burning. Cook until roux is a dark brown color, about 25 minutes, stirring very often to keep it from burning. When the roux is the right color, remove from the heat and stir for another 2 minutes.
In a skillet, melt butter over medium heat. Add onion, bell pepper, celery, carrot and jalapeno peppers. Sprinkle vegetables with salt. Saute until vegetables are soft, about 20 minutes.
Pile vegetable mixture into the pot with the roux. Add the reserved chicken broth and place on high heat. Whisk vigorously to combine roux with the broth. When the mixture boils, the sauce will thicken. After it starts to thicken, reduce heat to medium and stir in cayenne pepper, Old Bay seasoning, paprika, chili powder, thyme, oregano and tomatoes. Cover and let simmer for about 30 minutes. Then use a submersible hand blender to puree the gumbo, eliminating the vegetable chunks and making it thicker and smoother.
While gumbo is simmering, brown Andouille sausage in a skillet.
Add the sausage, chicken meat and okra to the gumbo and stir to combine. Simmer uncovered for another 30 minutes or so.
Serve over rice.

Classic Pickled Okra - this okra recipe is a great way to use up extra pods, an interesting addition to any relish tray, salty and spicy and sweet, easy to make
18 fresh okra pods
3 dried red chili peppers
3 whole cloves garlic
3 teaspoon dried dill
2 cups water
1 cup vinegar
3 tablespoon salt
3 tablespoon sugar

Place 6 okra pods in each of 3 sterile, 1 pint jars. Place one chili pepper and 1 garlic clove in each jar.
In a saucepan, combine water, vinegar, salt and sugar and bring to a rolling boil. Pour liquid over ingredients in the the jars. Attach the sterile lids and rings and process in a hot water bath for 10 minutes. Store jars in a cool, dark spot for at least 4 weeks. Refrigerate after opening.

Char-Grilled Okra - this okra recipe is slightly spicy and features a crunchy texture, surprising to those who think okra is always slimy, makes a great side dish
16 fresh okra pods
1/4 cup butter, melted
cajun seasoning to taste

Preheat outdoor grill for high heat. Lightly oil the grill grate.
Place washed okra in a bowl. Drizzle melted butter over okra and toss to coat. Place okra on grill and sprinkle with Cajun seasoning. Grill about 4 minutes or until charred, turning frequently. Serve immediately.

Twisted Jambalaya - this okra recipe puts several new twists on an old favorite, still spicy and comforting but with new ingredients and bold flavors
1 pound smoked sausage
1/4 cup butter
1 yellow onion, diced
4 stalks celery, diced
1 bell pepper, diced
1 jalapeno pepper, seeded and diced
1 carrot, diced
3 cloves garlic, minced
1 baking apple, peeled, seeded and diced
2 boneless chicken breasts, cut into bite-sized pieces
1 teaspoon salt
1 (14.5 oz) can diced tomatoes
12 okra pods, cut into 1/4 inch pieces
2 cups chicken broth
1 cup uncooked rice
2 tablespoons hot sauce
1 teaspoon dried thyme
1 teaspoon dried oregano
1/2 teaspoon cayenne pepper
1/4 teaspoon paprika
1 pound raw medium shrimp, peeled and deveined

Brown the sausage in the bottom of a large pot over medium-high heat. Remove and set aside. Reduce heat to medium and melt the butter in the same pot. Add onion, celery, bell pepper, jalapeno pepper, carrot, garlic, apple and chicken. Sprinkle salt over the chicken and vegetables. Saute until chicken is cooked and vegetables are tender, about 10 minutes. Add the browned sausage, tomatoes, okra, chicken broth, rice, hot sauce, thyme, oregano, cayenne pepper and paprika. Stir well to combine and bring to a boil. Cover and reduce heat to low and simmer for 20 minutes or until rice is cooked. Add raw shrimp to the jambalaya and stir. Cover the pot and cook over low heat about 10 minutes, or until the shrimp are pink. Serve immediately.

We hope you enjoy these okra recipes as much as our family does.

Click here to move from our Okra Recipes page to our Growing Okra main page

Click here to go to our Home page