Corn Recipes for the Backyard Vegetable Gardener
Over the years, we've tried many different corn recipes and have several favorites. Whether grilled, steamed, boiled or roasted, it's hard to beat the taste of freshly picked sweet corn. But first, here are some nutritional facts about corn: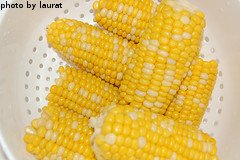 One cup of cooked corn contains:
28mg sodium
41g carbs
408mg potassium
10mg vitamin C
3mg calcium
Here are some of our favorite recipes that feature corn:



Grilled Corn - Great corn recipe for picnics!
12 ears of corn with husks attached
5 tablespoons melted butter
1 teaspoon salt
1 teaspoon onion powder
1/2 teaspoon ground black pepper
1/2 teaspoon paprika

Peel back corn husks but leave attached at the bottom of the ear. Remove silk.
Mix spices with melted butter and brush on corn. Pull husks back up to cover the ear of corn. Place ears on grill over medium heat. Grill 30 minutes, turning every 5 minutes. Remove husks and serve immediately.



Corn Salad - An excellent raw corn recipe!
2 cups fresh corn kernels
1 cup diced cucumbers
1 bell pepper, diced
1/4 cup red onion, diced

2 regular tomatoes, diced

1/4 cup sour cream

3 tablespoon mayonnaise

1 tablespoon rice wine vinegar

1 teaspoon salt

1/2 teaspoon ground black pepper

1/4 teaspoon ground red pepper

1/4 teaspoon celery seed


Blend sour cream, mayonnaise and vinegar together in a small bowl. Add salt, black pepper, red pepper and celery seed and mix together.
In a separate serving bowl, combine corn, cucumber, bell pepper, red onions and tomatoes. Pour sour cream mixture over the vegetables and toss to coat. Refrigerate salad for 3 hours before serving.



Creamed Corn - One of several classic corn recipes!
10 cups sweet corn
1/2 cup milk
1/2 cup half and half
1/2 tablespoon salt
1 teaspoon ground black pepper
1 teaspoon garlic powder
1/4 cup sugar

In a blender or food processor, puree 5 cups corn with milk, half and half, salt, pepper and garlic powder. Pour mixture into large sauce pan.
Stir in remaining 5 cups of corn and sugar. Cover and simmer over medium-low heat for 30 minutes, stirring frequently. Serve hot.



Corn Chowder - A great use for frozen corn
2 cups Russett potatoes, diced
1 cup carrots, finely chopped
1/2 cup celery, finely chopped
1/2 yellow onion, finely diced
1/4 cup bell pepper, finely diced
1 teaspoon salt
1/2 teaspoon ground black pepper
1 teaspoon garlic powder
3 cups sweet corn
1 cup milk
1 cup of half and half
1 cup cheddar cheese, shredded

Add water to a large pot and bring to a boil. Add potatoes, carrots, celery, onion, bell pepper, salt, black pepper and garlic powder. Reduce heat, cover and simmer 20 minutes.
Add in corn and simmer another 15 minutes until potatoes and carrots are softened.
Add milk and half and half to vegetables and reduce heat to low. Heat through. Add in cheese and cover until cheese is melted. Stir again and serve immediately.



Corn Salsa - A great way to use several different vegetables from your garden in one recipe
3 ears fresh sweet corn
4 standard tomatoes, mostly seeded and diced
1 small white onion, diced
1/2 cup fresh cilantro, finely chopped
2 tablespoon lime juice
2 Jalapeno peppers, seeded and finely diced
1 clove garlic, minced
1 teaspoon salt

Blanch corn in hot water for 3 minutes. Immediately plunge into ice water. When cool, cut corn from cob. Place kernels in serving bowl.
Add in remaining ingredients and combine thoroughly. Cover with plastic wrap and chill in refrigerator for several hours or overnight.
Serve with tortilla chips.

Click here to move from our Corn Recipes page back to the Growing Sweet Corn main page

Click here to return to our Home page