Carrot Recipes for the Backyard Vegetable Gardener

Most folks think of carrot recipes as making side dishes or raw vegetable trays. Carrots can be eaten raw or steamed, boiled, sauteed, roasted, juiced or made into bread, cakes and cookies. Because carrots have a fairly high sugar content, they are a great addition to any salty or spicy dish. Before we get to some of our favorite carrot recipes, here's some nutrient information: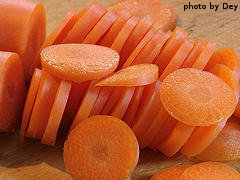 One ounce of carrot contains:

10 calories
2 carbs
9 mg calcium
3 mg magnesium
66 mg potassium
22 mg sodium
Here are some of our favorite carrot recipes:



Classic Carrot Cake with Bourbon Orange Cream Cheese Frosting - this carrot recipe makes a moist and delicious cake, one of our favorite desserts of all time
Cake:
3 cups all-purpose flour
3 teaspoons baking soda
1/2 teaspoon salt
4 cups grated carrots
1 (15 oz) can crushed pineapple, drained
1 1/2 cups vegetable oil
3 cups white sugar
4 eggs, lightly beaten
1 tablespoon vanilla extract
2 teaspoons ground cinnamon
1/2 teaspoon ground nutmeg
1/4 teaspoon ground cloves
1 cup walnuts, chopped

Bourbon Orange Cream Cheese Frosting:
2 (8 oz) packages cream cheese, softened
1/2 cup butter, softened
2 tablespoons Bourbon
1 1/2 cups powdered sugar, sifted
1 tablespoon orange zest

Preheat oven to 375 degrees F. Grease and flour three 8 inch cake pans.
Sift together flour, baking soda and salt. Set aside.
In a large mixing bowl, combine carrots, pineapple, oil and sugar. Add eggs, vanilla, cinnamon, nutmeg and cloves. Stir gently to combine. Add flour mixture to the bowl and stir well until combined. Stir in walnuts.
Pour mixture into prepared pans. Bake for 40-45 minutes or until a cake tester comes out clean. Allow to cool and then remove from pans.
While cakes are cooling, make the frosting. In a large bowl, cream together cream cheese and butter until well combined and creamy. Mix in the bourbon and then gradually stir in the powdered sugar. Fold in orange zest.
After the cakes have cooled completely, place 1 cake on a cake plate and spread a layer of frosting on top. Place another cake on top of the frosting layer. Add another layer of frosting. Place the 3rd cake on top and then frost the top and sides of the whole cake, covering it completely. Store in the refrigerator.



Spiced Glazed Carrots - this easy carrot recipe makes a great side dish for any meal

4 cups water
2 tablespoon butter
3 tablespoon brown sugar
1 teaspoon ground cinnamon
1/4 teaspoon ground nutmeg
1/4 teaspoon vanilla
1/4 teaspoon table salt

In a large pot, bring carrots and water to a boil. Boil covered for 20 minutes or until carrots are almost fork tender. Drain carrots and remove any remaining water from the pot.
To the empty pot add butter and cook over medium heat until melted. Add in brown sugar, cinnamon, nutmeg and vanilla. When all ingredients have melted together, add carrots back into pot and stir to coat. Cook about 5 minutes or until carrots are tender but not falling apart. Sprinkle with salt and serve immediately.



Carrot Pecan Salad - this carrot recipe makes a cool, refreshing salad, a great way to get kids to eat their veggies
6 large carrots, julienned
3 cloves garlic, finely minced
1/4 cup pecans, chopped
1/4 cup raisins
3 tablespoon mayonnaise
3 tablespoon sour cream
1/4 teaspoon table salt
1/4 teaspoon ground black pepper
1 teaspoon white sugar

In a large serving bowl, stir carrots, garlic, pecans, raisins, mayonnaise, sour cream, salt, pepper and sugar. Mix well and place in refrigerator.Chill at least 3 hours before serving.



Curry Carrot Soup - this carrot recipe makes a delicious spicy soup with complex flavors, good as a first course or main course
2 tablespoons olive oil
1 1/2 pounds carrots, cut into bite sized chunks
1 large yellow onion, diced
1 tablespoon butter
1/2 teaspoon white sugar
3 garlic cloves, sliced
2 tablespoons curry powder
3 cups chicken broth
1/2 teaspoon salt
1/4 teaspoon ground black pepper
1/4 teaspoon ground cumin
1/4 teaspoon ground cinnamon
1/2 cup heavy cream
1/2 cup milk
1/2 cup roasted cashews, chopped
1/4 cup fresh parsley, chopped

Heat oil over medium heat in a large pot. Add carrots and onion. Saute over medium heat for about 7 minutes or until vegetables begin to brown.
Reduce heat to medium low and stir in butter, sugar and garlic. Cook another 10 minutes or until vegetables start to brown.
Add curry powder and stir well to combine. Cook 1 minute.
Pour broth into pot and turn up heat to medium high until it simmers. Add in salt, black pepper, cumin and cinnamon and stir. Reduce heat, cover and simmer for about 10 minutes or until carrots are tender.
Using a blender, puree the contents of the pot in batches until smooth. Return the puree to the pot. Pour in cream and milk and cook another 2 minutes over low heat until soup is heated through.
Serve immediately, garnishing with cashews and parsley.



Classic Beef Stew - this carrot recipe makes a hearty stew in a slow cooker, great for cold winter nights
3 pounds cubed stew meat
1/4 cup plus 3 tablespoons all-purpose flour
2 teaspoons salt
1 teaspoon garlic powder
3 tablespoons vegetable oil
3 tablespoons Worcestershire sauce
1 pound carrots, cut into 2 inch pieces
4 large potatoes, cubed
1 cup green peas
1 tablespoon dried parsley
1 teaspoon ground black pepper
1 teaspoon chili powder
1/4 teaspoon celery seed
2 1/4 cups water
2 (1 oz) envelopes onion soup mix
5 tablespoons butter
2 yellow onions, chopped
4 garlic cloves, minced
1/2 cup red wine
4 cups button mushrooms, halved

Place beef, 1/4 cup of the flour, 1 teaspoon of the salt and garlic powder in a plastic bag. Shake until beef is coated.
Heat the oil in a large skillet over high heat. Add the beef and cook until evenly browned on all sides. Add in Worcestershire sauce and cook an additional 30 seconds. Transfer the beef to a slow cooker, leaving the pan drippings in the skillet. Add the carrots, potatoes, peas, parsley, black pepper, chili powder, celery seed and remaining 1 teaspoon salt to the slow cooker.
In a small bowl, combine 2 cups of water and onion soup mixes. Whisk until combined and add to the slow cooker.
Melt 3 tablespoons of the butter in the skillet over medium heat. Add the onion and garlic to the skillet and saute until almost tender. Transfer onion and garlic mixture to the slow cooker and return the skillet to the heat. Melt remaining 2 tablespoons of butter in the skillet. Add wine and mushrooms to the skillet and cook until mushrooms begin to absorb the butter and wine. Pour all of the mushroom mixture into the slow cooker.
Cover the slow cooker, set it on high and cook stew for 1 hour. Reduce setting to low and cook about 7 hours or until beef is tender.
In a separate bowl, whisk together remaining 3 tablespoons of flour and 1/4 cup water. Stir into the stew and cook uncovered about 30 minutes or until stew thickens.
Serve with crusty bread or crackers.



Carrot and Almond Quiche - this carrot recipe makes a great brunch entree

1 cup carrots, diced
3/4 cup slivered almonds
1/4 cup honey
4 eggs
1 cup half-and-half
1/2 teaspoon nutmeg
1/2 teaspoon salt
1/4 teaspoon garlic powder
1/4 teaspoon ground black pepper
3/4 cup cheddar cheese, shredded
1 (9 inch) pie crust
Preheat oven to 350 degrees F.
Melt butter in a skillet over medium heat. Add in carrots and almonds and cook until carrots are tender. Stir in the honey and remove from heat.
In a bowl, beat together eggs, half-and-half, nutmeg, salt, garlic powder and black pepper. Set aside.
Place the pie crust into a pie pan. Spread the cheese evenly in the bottom of the pie crust. Pile the carrot mixture over the cheese and spread evenly. Pour the egg mixture over the top. Place in oven and bake for 40 minutes or until inserted toothpick comes out clean.
Serve immediately. Garnish with fresh parsley or more slivered almonds.


Click here to move from our Carrot Recipes page to the Growing Carrots main page

Click here to return to our Home page