Cabbage Recipes for the Backyard Vegetable Gardener

We love lots of different cabbage recipes and look forward to making them every year. Cabbage is a versatile vegetable that can be steamed, roasted, boiled and eaten raw. It can also be stuffed or made into sauerkraut. Even though cabbage itself doesn't store well for long periods of time, several recipes can be made and then frozen. This allows for the taste of fresh grown cabbage any time during the year. Before we share some of our favorite cabbage recipes, here is some nutrient information...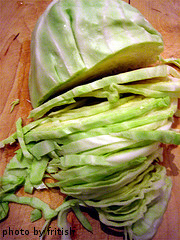 1 cup shredded cabbage contains:
16 calories
4 g carbs
36 mg vitamin C
40 mcg Folate
33 mg Calcium
172 mg Potassium
13 mg Sodium
Here are some of our favorite cabbage recipes:








Incredible Stuffed Cabbage - this cabbage recipe makes a great main dish, fantastic and addictive flavor, freezes well, definitely one of our favorites
1 pound ground beef
1 pound ground pork
1 yellow onion, diced
2 teaspoons salt
1/2 teaspoon ground black pepper
1 tablespoon parsley, chopped
1 teaspoon garlic powder
1 cup cooked rice
2 (10.75 oz) cans condensed tomato soup
1 large head cabbage
2 pounds sauerkraut, drained
2 pounds Polish sausage, cut into chunks
1 (29 oz) can diced tomatoes
3 cups water

Preheat oven to 350 degrees F. Bring a pot of water to a boil on the stove.
In a large bowl, combine raw beef, pork, onions, salt, pepper, parsley, garlic powder, rice and 1 can condensed soup. Mix well. Wash cabbage well and place the whole head in the pot of boiling water. Turn off heat and let cabbage sit in water for 2 minutes. Remove cabbage and let cool slightly. Carefully peel leaves off of cabbage, leaving them as large as possible. Peel off approximately 36 whole leaves. Cut the leftover head of cabbage in half and remove the core. Chop up remaining cabbage into bite sized pieces. Add cabbage pieces to the bottom of a large roasting pan.
Using your hands, pack together a small handful of the rice and meat mixture and place it in the center of a cabbage leaf. Fold the leaf over the mixture, then fold in the sides. Roll up the stuffed leaf until the mixture is encased completely. Place roll on top of the cabbage leaves in the roasting pan. Repeat this process until all of the mixture and cabbage leaves have been used up.
Top the layer of cabbage rolls with sauerkraut, distributing it evenly. Place chunks of Polish sausage on top of sauerkraut.
In a bowl, mix together diced tomatoes, remaining 1 can condensed soup and 3 cups water. Pour over the rolls. Add additional water as needed to nearly cover the rolls, but not the kraut and sausage.
Cover the pan with foil and bake at 350 degrees F for 90 minutes, or until cooked through.
Any leftovers can easily be frozen in airtight containers. They will last for several months.



Blue Ribbon Coleslaw - this cabbage recipe makes a quick and delicious slaw, creamy and crunchy with a nice balance of sweet and savory, perfect for picnics or potlucks, also works great as a topping on burgers and hot dogs
1 small head green cabbage, shredded
1 small head red cabbage, shredded
1 large carrot, shredded
1 green bell pepper, julienned
1 red bell pepper, juliennned
1 medium white onion, finely diced
1/4 cup sliced green onions
1/4 cup chopped fresh parsley
1/3 cup milk
1/3 cup buttermilk
1/3 cup mayonnaise
1/4 cup sour cream
1/3 cup white sugar
3 tablespoons lemon juice
1 1/2 tablespoons vinegar
1/2 teaspoon salt
1/4 teaspoon ground black pepper
1/4 teaspoon ground cayenne pepper
1/2 teaspoon celery seed

In a large bowl, combine green and red cabbage, carrot, red and green bell peppers, white and green onions and parsley. Toss well to combine.
In a food processor or blender, add milk, buttermilk, mayonnaise, sour cream, sugar, lemon juice, vinegar, salt, black pepper, cayenne pepper and celery seed. Blend until smooth.
Pour dressing mixture over vegetables and toss to coat. Cover the bowl and refrigerate for at least 6 hours or overnight. Stir again before serving.



Easy Homemade Sauerkraut - this cabbage recipe is simple to make and keeps well for months, tangy and delicious, much better and more mild tasting than store-bought kraut, it keeps getting better the longer it sits, although it uses canning jars - no water bath or canning equipment is necessary
1 gallon water
1 cup pickling salt
1 cup vinegar
1/2 cup sugar
4 large heads cabbage, shredded
Quart-sized canning jars - washed thoroughly
Canning lids and rings - boiled and kept hot

In a stock pot, bring water, salt, vinegar and sugar to a boil.
Pack cabbage into jars, leaving about 2 inches of head space below the rim of the jar. Pack it a little bit tight, but not too tight. Leave enough room for liquid to get into every nook and cranny. Pour boiling brine into the jars, covering the cabbage. Run a thin knife around the inside of the jar to remove any air bubbles. Add more brining liquid until there is 1 inch head space between the top of the liquid and the rim of the jar. Using a clean cloth, wipe off the rim and cover with a hot lid and ring. Barely tighten rings for now.
Set jars on newspapers in a cool, dark place. Leave them for at least 4 weeks. As the cabbage ferments, gas and bubbles will form and force air out of the jar, therefore sealing it. The lid should suck down. If after 4 weeks, a lid is still loose (the center can be pushed down and pops up again), use this sauerkraut immediately. When lids have sealed, the rings can be tightened further.
Before eating or using sauerkraut, rinse it off well to remove any salt residue.



Cabbage on the Grill - this cabbage recipe makes a delicious side dish, easy to make and oh so tasty, goes well with just about anything, a new and unique way to prepare cabbage
1 head cabbage, cored and chopped
1 onion, diced
1 cup soy sauce
1/2 cup butter, cut into tablespoons
Salt and pepper to taste
Preheat grill over medium heat.
Evenly divide cabbage and onions over 8 pieces of foil. Sprinkle 2 tablespoons soy sauce over each pile of cabbage and onions. Place 1 tablespoon of butter on top of each pile. Sprinkle salt and pepper over the top. Fold the sides of foil over the cabbage mixture, creating a packet. Make sure packet is sealed tightly.
Place packets on preheated grill and cook 15-20 minutes, or until cabbage is tender. Serve immediately.



Stewed Cabbage - this cabbage recipe makes a great side dish, sweet and savory flavors go well with any main course, a real crowd pleaser
6 strips bacon
2 tablespoons butter
2 onions, chopped
1 stalk celery, chopped
2 cloves garlic, minced
1 head cabbage, cut into bite sized pieces
1 (14.5 oz) can stewed tomatoes
1 teaspoon salt
1/2 teaspoon ground black pepper

Fry bacon in a large, deep skillet. Remove and let drain on paper towels.
To the bacon drippings, add butter and melt. Add onions, celery and garlic and saute over medium heat until onions are translucent. Add cabbage, reduce heat to low and cook for 10 minutes.
Pour tomatoes over cabbage mixture and season with salt and pepper. Cover skillet and simmer over medium heat for 30-40 minutes, or until cabbage is tender. Transfer cabbage mixture to serving bowl and crumble bacon over the top. Serve immediately.



Creamy Cheesy Cabbage Bake - this cabbage recipe makes a unique and tasty side dish, sweet and tangy and salty and creamy all at the same time,
4 slices bacon
1/4 cup butter
1 tablespoon all-purpose flour
1 teaspoon salt
1 teaspoon ground black pepper
1 head cabbage, cored and shredded
1/2 cup sour cream
2 cups mozzarella cheese, shredded
1/2 cup grated Parmesan cheese
1 cup bread crumbs

Preheat oven to 350 degrees F.
In a large deep skillet, fry the bacon until evenly browned. Remove bacon and let drain on paper towels.
Reduce heat to medium and whisk butter, flour, salt and pepper into the bacon drippings. Add cabbage and cook until cabbage is barely tender, about 15 minutes. Crumble bacon and add it to the cabbage. Stir in sour cream and transfer entire mixture to a baking dish. Evenly spread mozzarella cheese over cabbage mixture. In a small bowl, mix together Parmesan cheese and bread crumbs. Spread bread crumb mixture evenly over mozzarella cheese.
Bake uncovered in preheated oven for approximately 15 minutes, or until cheese is melted and bread crumbs turn golden brown. Serve immediately.



We hope you enjoy these cabbage recipes as much as our family does.

Click here to move from our Cabbage Recipes page to our Growing Cabbage main page

Click here to move to our Home page