Asparagus Recipes for the Backyard Vegetable Gardener
Here are some of our favorite asparagus recipes. Asparagus can be prepared several different ways. It can be sauteed, boiled, roasted, steamed, fried or eaten raw. Before we get to the recipes, here is some nutritional information...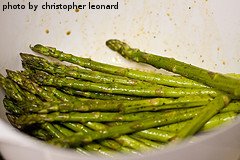 One cup of asparagus contains:
32 calories
3g carbs
44mg Vitamin C
32mg Calcium
310mg Potassium
5mg Sodium
Here are some of our favorite recipes that feature asparagus:

Roasted Asparagus - An asparagus recipe that makes a classic side dish
1 pound asparagus, washed and peeled if necessary
1 1/2 tablespoons olive oil
1 teaspoon salt
1 teaspoon ground black pepper

Preheat oven to 425 degrees F.
Place asparagus in a shallow roasting pan. Drizzle with olive oil. Sprinkle with salt and pepper. Toss to coat. Spread asparagus spears in a single layer and place in oven. Roast for 12-15 minutes or until fork tender.
Can be served with Hollandaise sauce, Bearnaise sauce or as is.



Shrimp and Asparagus Stir Fry - an asparagus recipe that makes a savory Asian-style stir fry
3 tablespoons brown sugar
3 tablespoons soy sauce
1 tablespoon rice wine vinegar
1 teaspoon ground ginger
1 teaspoon flour
1 tablespoon sesame oil
1 tablespoon vegetable oil
1/2 cup chopped asparagus
1/2 cup chopped broccoli
1/2 cup whole snow peas
1/2 carrot, cut in thin strips
1/4 cup water chestnuts
1/2 red bell pepper, cut in thin strips
1/4 cup sliced mushrooms
1 pound raw shrimp, peeled and deveined
4 cups cooked rice

Preheat a large skillet on very high heat.
In a small bowl, whisk together brown sugar, soy sauce, rice wine vinegar, ginger and flour. Set aside.
Add the sesame oil and vegetable oil to the hot skillet. To the skillet, add asparagus, broccoli, snow peas, carrots, water chestnuts, red bell pepper and mushrooms. Saute until vegetables are warmed through. Using a spatula, move the vegetables to one side of the skillet. Pile the shrimp in the other side of the skillet and cook 1 minute. Flip the shrimp and then pour the soy sauce mixture on top of the vegetables and shrimp. Let sauce come to a boil and thicken. Toss everything together so that the sauce coats vegetables and shrimp. The shrimp will be cooked by this time. Remove from heat. Serve immediately over rice.
This recipe can also be made with beef, chicken, tofu, etc...



Creamy Asparagus Soup - this asparagus recipe makes a rich and creamy soup that's a family favorite
1 pound asparagus, washed
6 cups chicken stock
2 tablespoon butter
2 tablespoon flour
1 cup half-and-half
1 teaspoon salt
1 teaspoon ground black pepper
1 teaspoon garlic powder

Bring the chicken stock to a boil in a large pot.
Cut the tips off the asparagus spears and set aside. Chop the remaining stalks into 1 inch pieces and boil in the stock for 15 minutes, or until very soft.
While the asparagus is boiling, in a medium saucepan, melt the butter. Add the flour and whisk continuously over medium-high heat until lightly brown. Add 1 cup of the hot stock to the butter and flour mixture. Whisk together and continue cooking until smooth.
Add butter and flour mixture to the boiling asparagus. Stir well. The soup will begin to thicken. Use a hand blender to puree the soup until mostly smooth. Add in the asparagus tips, half-and-half, salt, pepper and garlic powder. Reduce heat to medium and stir continuously for 5 minutes or until asparagus tips are softened. Garnish with bacon bits, shredded cheese, creme fresh, etc...



Asparagus Tempura with Orange Dipping Sauce - an asparagus recipe that makes a great appetizer or party dish
1 tablespoon lemon juice
1 tablespoon white sugar
1 tablespoon balsamic vinegar
1 teaspoon orange zest
1 pound asparagus, washed and dried
1 egg
1 cup ice water
1 cup all purpose flour, sifted
1/2 teaspoon baking powder
1/2 teaspoon salt
1/2 teaspoon ground black pepper
Oil for frying

In a small sauce pan, bring orange juice, lemon juice and sugar to a boil. Reduce heat and simmer for 12 minutes or until mixture is reduced by half. Add orange zest and balsamic. Mix thoroughly and remove from heat. Pour mixture into dipping cups.
In a deep skillet, heat 2 inches oil to 350 degrees F.
In a shallow bowl, beat the egg. Add the ice water, flour, baking powder, salt and pepper and mix lightly until barely combined. Do not over-mix.
Dip individual asparagus spears in the batter and fry in hot oil about 2 minutes, or until golden brown. Serve with dipping sauce.



Asparagus Bread - this surprising asparagus recipe makes a great quick-bread
3 eggs
1 cup vegetable oil
1 1/2 cups sugar
2 cups grated asparagus
2 cups flour
2 teaspoon baking soda
1 teaspoon baking powder
1 teaspoon salt
1 teaspoon ground cinnamon
1 teaspoon nutmeg
1/2 teaspoon allspice
1 cup walnuts, roughly chopped
1/4 cup raisins

Preheat oven to 350 degrees F.
Melt the butter over low heat in a saucepan, set aside.
In a mixing bowl, beat eggs and oil together until thick. Beat in the sugar. Stir in the melted butter and asparagus and set aside.
In another large bowl, sift together flour, baking soda, baking powder, salt, cinnamon, nutmeg and allspice. Fold in the asparagus mixture. Then fold in the walnuts and raisins.
Pour mixture into a greased 9x5 inch loaf pan and bake in oven for 65 minutes, or until toothpick inserted in the middle comes out clean.
Let bread cool on a rack for 30 minutes before un-molding it from the loaf pan.

Click here to leave our Asparagus Recipes page and go to the Growing Asparagus main page

Click here to return to our Home page