Green Bean Varieties - What's the Difference?

There are several green bean varieties available to the backyard vegetable gardener. Some are very similar and others have unique textures or colors or flavors. It is very common for a gardener to find a variety they like and stick with it, growing it year after year. We tend to plant a few different varieties, sticking with our favorites, and adding 1-2 others into the mix just to try them.  Grean beans can be divided up into 2 main categories, pole or bush. Some varieties are available in both pole and bush types.
We are often asked what our favorite varieties are.  For pole beans, we like Rattlesnake - they are stringless and average 7" long.  The pods are streaked with green and purple and the plants reach 8 feet tall, ready in 73 days.  They have an old timey taste and produce well in our climate.  These beans are great for canning, and the beans inside the pods work well as dried beans.
For bush beans, our favorite is Calima - they are a french filet type bean that starts off nice and thin like haricot vert.  Ready in 55 days, this variety grows fast.  If you let the beans grow a bit more, they reach a nice size for canning.  This variety is fairly heat tolerant and the dark green beans average 5" long when picked young, and 7+" long if you let them grow.  We like the dual purpose of these beans.
Here is a partial list of the more common green bean varieties.

Pole Beans - these green bean varieties grow on plants that need some sort of support structure, like a pole or trellis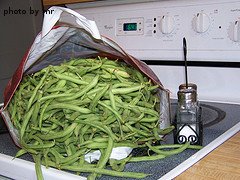 Kentucky Blue - this variety is ready in about 65 days, features straight and stringless beans average 7" long, heavy yields on plants that can reach 9 feet fall, a cross between Kentucky Wonder and Blue Lake


Blue Lake - this variety features straight and stringless pods that average 6" long, moderately sweet and crisp, freeze well, ready in 60 days, plants can reach 9 feet tall, also available as certified organic seeds



Kentucky Wonder - plants can reach 9 feet tall, this green bean variety features slightly curved pods that are stringless when young, pods are thick and meaty, good fresh or frozen, ready in 65 days, an heirloom variety also available as certified organic seed



Scarlett Runner - this unique variety features bright red/orange flowers, beans are very slender and reach 8" long, can be picked young for snap beans or shelled when fully mature, ready in 70 days, plants can reach 9 feet tall



Fortex - this French variety produces long and slender beans that are best when 6"-11" long, very tender, mildly sweet and nutty at the same time, ready in 75 days, plants can reach 10 feet tall, heavy yields



Purple King - this unique variety features shiny purple beans that average 5"-6" long, beans turn green when cooked, plants can reach 8 feet tall, ready in 75 days, beans are moderately sweet and tender



Asparagus Yardlong - very unique variety with long and slender pods, best when picked before beans reach 18" long, nice nutty flavor, plants can reach 9 feet tall, ready in 80 days, these beans are best cooked quickly in stir-fry or sauteed
Bush Beans - these green bean varieties grow on bush-type plants that are closer to the ground
Blue Lake #47 - this prolific variety is good fresh or frozen, features 6" beans that are mostly straight, mildly sweet, ready in 60 days, plants are less than 2 feet tall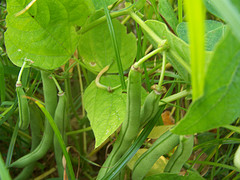 Big Kahuna - this variety is available exclusively through the Burpee Seed Company, features giant-sized straight beans that reach 11" long, very crisp with a nutty and sweet flavor, plants reach 2 feet tall, beans are ready in 57 days
Early Bush Italian - this heirloom green bean variety features classic flat pods, excellent flavor, beans average 5" long, stringless, freeze well, ready in 50 days, plants rarely exceed 18" tall
Purple Queen - this variety features straight purple pods that average 7" long, turn green after cooking, beans are moderately nutty and tender, ready in 52 days, plants average 18" tall
Contender - one of the heaviest yielding green bean varieties, pods are slightly curved and average 6" long, very good flavor and tender texture, plants reach 30" tall and beans are ready in 55 days
Greencrop - this variety is an All-America Winner, pods are flat like an Italian bean but thinner, pods are stringless and crisp, flavor is nutty and fresh, ready in 50 days
Maxi Dwarf - this variety is ready in 50 days, beans average 8" long and are produced above the leaves for easy harvest, good flavor and texture, pods are slightly curved at the end, heavy yields
Fordhook Standard - features slender and straight beans that average 6-7" long, very sweet and crisp, plants average 18" tall, ready to pick 57 days after planting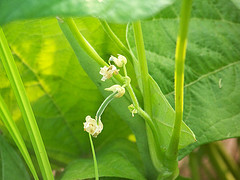 Blue Lake #274 - beans are plump and average 5-6" long with white seeds, heavy yields, freeze well, plants average 18" tall, ready in 58 days, tender and nutty flavor, also available in certified organic seed
Triumphe De Farcy - a French bush variety, early producer that is ready in 48 days, plants average 18" tall, straight and slender pods are crunchy and nutty, beans are best when harvested between 4"-6", heavy yields
Eureka - this unique variety features yellow beans that average 5"-6" long, slightly curved, plants are very short at only 15" tall, ready in 55 days, extremely flavorful
White Half Runner - this variety is ready in 60 days, features bright green beans that average 4" long, very tender and sweet with white seeds, heavy yields, plants average 2 feet tall
Jade - this green bean variety is ready in 60 days, features dark green pods that are straight and stringless, very sweet and tender, pods average 6" long, plants average 20" tall, good producer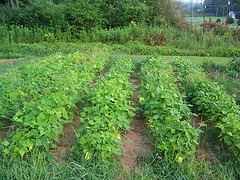 Click here for information about planting green beans


Click here for information about watering and fertilizing green beans


Click here to learn about harvesting green beans


Click here for green bean recipe ideas


Click here to move from our Green Bean Varieties page to our Growing Green Beans main page