Backyard Greenhouses
__________________________
Backyard greenhouses are being utilized more and more by gardeners around the world to grow fresh vegetables, herbs, fruits, flowers, etc...
Greenhouses aren't new - they've actually been around in some form for thousands of years.  But in more recent years, their popularity has been growing.  More and more folks who enjoy growing their own vegetables are seeing the many benefits of owning a great greenhouse.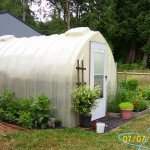 One of the reasons to own a backyard greenhouse is to have place to grow your own seedlings.  By starting your own peppers, tomatoes, eggplants, cabbage, broccoli, etc... from seed, you can save a ton of money over the long run.  Often times, mail order companies will charge $4 for a single tomato or pepper seedling.  Meanwhile, you can purchase 30 seeds for about the same amount of money and grow your own.  In addition, if you grow your own seedlings, you have a lot more varieties to choose from.  Here are some other motivations for owning your own greenhouse:
A desire to extend the growing season (with some greenhouses, gardeners can grow year-round)
Protect veggies and plants from high winds, plant burning from intense direct sunlight, exposure to extreme heat or freezing temps or other foul weather 
A desire to grow edibles via aquaponic or hydroponic systems
Protect veggies and plants from being eaten/destroyed by deer, pets, bears, birds, squirrels, moles, mice, bugs, and other vermin
Much better control of humidity, along with the use of automatic watering systems 
We've seen a lot of backyard greenhouses.  Many of them are the DIY-type and time consuming to construct.  They are often made out of plastic sheeting that wears out and needs to be replaced every couple of years.  In addition, some of these greenhouses require intensive land prep before construction can even begin.  
Over at Solar Gem Greenhouses, they have come up with a good alternative to the old-fashioned flimsy greenhouse.  They've created a rugged, one-piece fiberglass greenhouse that's made in the USA and requires no assembly and no ongoing maintenance.   Their greenhouse automatically vents itself in the warmer months, diffuses the sunlight evenly inside, delivers great cold weather performance and comes with a limited lifetime warranty.  In addition, you don't need to go to the trouble and expense of installing a deck or pouring a concrete slab.  Want more information?
Click here to take a look at a Solar Gem Greenhouse for yourself
___________________________