Acorn Squash Varieties - What's the Difference?

There are a few different acorn squash varieties available to the backyard vegetable gardener. Most varieties are similar in taste, texture and appearance. A typical acorn squash is dark green on the outside with golden colored flesh on the inside. The texture is slightly firm and buttery. Most varieties have a slightly sweet, nutty flavor. However, some acorn squash varieties are unique in appearance and flavor.
We often get asked about which is our favorite variety of acorn squash.  We have grown a couple over the years, but our favorite today is the Table King Bush, which is an heirloom variety.  We like the fact that the plants are compact, and yet they still produce high yields - often 6+ squash per plant.  The flavor is nutty and sweet and the texture is almost never stringy.  In addition, the squash are just a bit smaller, averaging 2 pounds each.  This variety is ready in 85 days.

Here is a list of some more of the more common varieties of acorn squash, along with plant and fruit descriptions...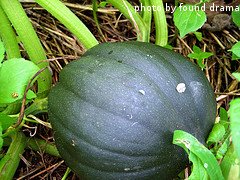 Bush Table Queen - this variety produces dark green, acorn shaped squash that are about 5 inches in diameter with deep ridges, orange flesh with good texture, ready in 80 days, good choice for container gardening


Heirloom Table Queen - an heirloom variety ready in 85 days, golden colored flesh is nutty, ribbed dark green skin, acorn shaped, vining plant type suitable only for traditional gardens


Festival Hybrid - this unique variety of acorn squash produces cream colored squash with light yellow stripes and dark green circles on the blossom end, 1-2 pounds each, ready in 100 days, squash have a flattened acorn shape, plants are fairly compact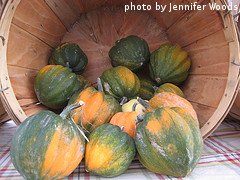 Early Acorn Hybrid - this variety features very compact plants, good for container gardening, each plant bears 4-6 large, dark green squash that average 4 pounds, classic acorn shape, orange flesh is tender, sweet and nutty with a smooth texture, ready in 75 days
Table Ace - this variety is ready in 75 days, large acorn shaped squash are dark green and average 4-5 pounds, smooth texture and sweet, nutty flavor, good all around variety
Ebony - this variety features a very dark green skin, good taste and texture, light orange colored flesh, ready in 80 days
Cream of the Crop - this variety features very smooth, buttery flesh that is both sweet and nutty in flavor, average size is 3-4 pounds, good variety for making soups and stews, ready in 80 days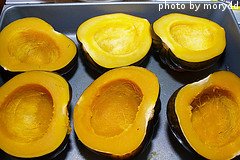 Click here to learn about planting acorn squash

Click here for information about watering and fertilizing acorn squash plants

Click here for help diagnosing and curing common acorn squash plant problems

Click here to learn about harvesting acorn squash

Click here for some of our favorite acorn squash recipes

Click here to move from our Acorn Squash Varieties page to our Growing Acorn Squash main page

Click here to return to our Home page